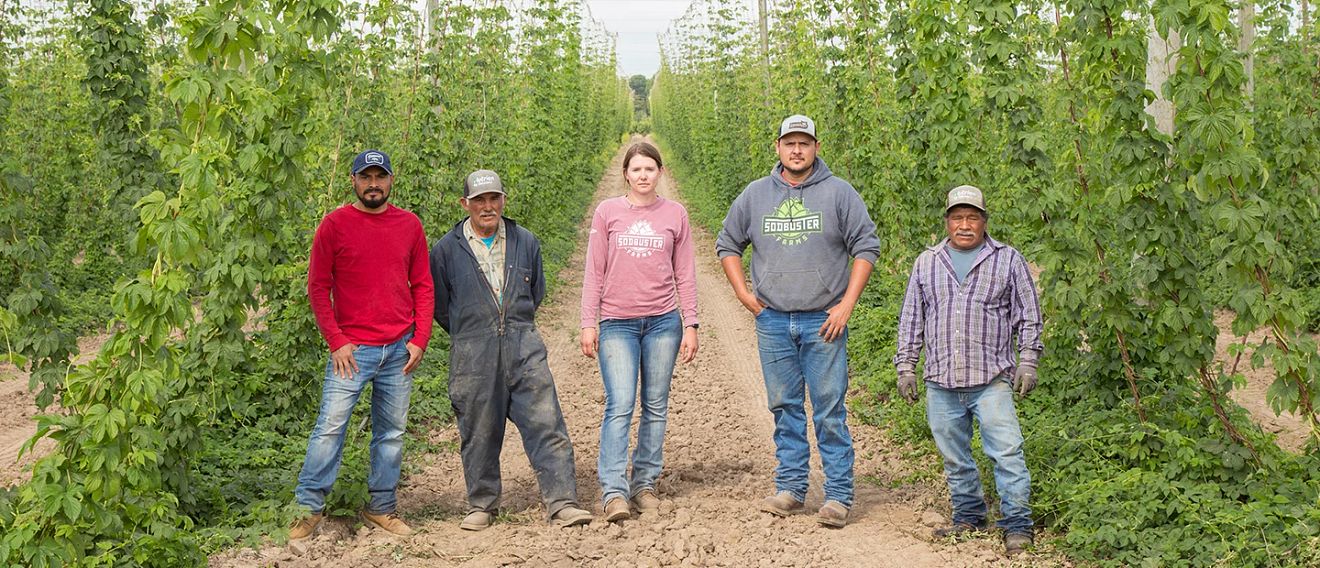 SODBUSTER FARMS: HARVESTING HOPS, SUSTAINABLY
Hop farmer, Alexa Weathers, invests in tools and regenerative practices to keep her farm productive now and for future generations.
[music and birds chirping]
I'm Alexa Weathers and I'm the Farm Manager at Sodbuster Farms. My grandfather and also my grandma have been in the hops industry and it's pretty cool that those two people came together to create what is now Sodbuster Farms. So I would be part of generation four, but our family history goes a little bit further than that that we've been in farming for five generations. The country that grows the most hops in the world is the United States and in the United States are three primary growing regions, which is Oregon, Washington and Idaho. What's great about Oregon is our soil and we have some of the best soil I think in the world. So our farm is located in the Willamette Valley, which is a Western region of Oregon and we specifically grow grass seed, hops, hazelnuts and wheat. I've always wanted to pull my own weight and I've always worked like i'm pulling my own weight. I'm really excited to go to work every day and think about what needs to be accomplished and how we are going to do it as a team. It's not just one person doing the job, it's everybody. Some of the tools that we have on the farm are irrigation pump automation controls, electrical conductivity meters in the soil and that's at 6 inches, 12 inches, 18 inches, all the way down to 32 inches. So we're making sure that we're not pushing not only water but fertilizer beyond the root zone, because if we push it beyond that then we're just wasting time and resources for sure. We have electrostatic sprayers. These sprayers are allowing us to use a lower gallons per acre with our water, so less water, and that also equals less time for our employees out in the field. Because without employees we have no farm, without passion for what they do there is no heart in farming. So hops are technically flowers and we also call them cones and those cones are for brewing purposes and they add flavor and aroma to brewing. So there is an 18 foot tall trellis out in the hop yard and we have to have a string that can be used only for that season and the hoplines are gonna follow up that string and make it to the top of that wire, so they will be 18 feet tall which is really unlike any other crop. The best possible, luscious, beautiful, aromatic, delicious hop for when harvest comes around in mid-August. So this is the burner, so if you don't dry your hops in between 8.5-10.5 percent, they get rejected. No pressure. Throughout the year I have to have dependable footwear that'll get me through in the winter time working in the shop, gearing up for muddy, wet fields in the springtime because of how much rain we get. I have to have shoes that will be comfortable, waterproof, stand up to the heat and not break down and that's really what my Irish Setters do and have done for the past 5 plus years. there's still this perception that farmers are not smart and they don't care about the environment, that's not how we are. We've never been that way. The farmers care more about the environment than i think anyone else in any other industry. It's incredibly important to us. We're outside every day because we love it, not because we have to be. We chose this life for a reason. We want to be known for good farmers who have this great outlook on life. Yes, the farm is so important to us but so is our family, and if our family sees that it's gonna create a place where our family wants to join us and be a part of this next generation. Which is really powerful to me because I want my kids to be able to come here and see, like, my mom used to run this.
Irish Setter
Salem, OR - Sodbuster Farms near Salem, Oregon is a hard-working, family-owned and operated hop farm. Sodbuster Farms strives for a desirable work/life balance by investing in the right tools and equipment to get the job done. To help keep the farm productive now and for generations to come, Sodbuster Farms uses regenerative farming practices. As the Operations Manager Alexa Weathers is one of the fourth-generation family members working to grow hops and other crops sustainably on approximately 1000 acres.
During the labor-intensive times of hop farming - stringing hops on trellises and harvesting - crews work twelve-hour days. The farm operates 24 hours a day during the intense harvest. Weathers admits to occasionally working 15 hours or more in a day during that critical time. Approximately 60 contract workers join the 12-15 full-time employees to get the job done. Farm machinery is running continually, 24/7, during the month-long harvest.
Hops are used in beer production to provide flavor and extend shelf life. There are many varieties of hops and Sodbuster grows over 14 varieties with different harvesting dates which adds efficiency to their operation. To further aid efficiency, Sodbuster Farms was the first operation in Oregon to purchase a new model of mechanical hop picker in 2021. According to the family, the machine which separates hop cones from the vines, sticks and leaves after they have been harvested from the 18-foot-high trellises saves the farm 60-70% on labor and improves employee safety. "We prioritize getting employees home to have dinner with their families whenever possible," said Weathers. "We may go all day, but we understand the importance of balancing work and family."
"We've spent millions and millions of dollars on new picking machinery and new tractors for the crew to improve efficiency, safety and help our crew get home to their families sooner," explained Weathers. "They do the job right and do it well because they have nice equipment and they're not as tired. The same thing goes for shoes. If you invest in a good pair of shoes that are going to last, it's going to make you more comfortable. The health of your body starts from the ground up and it starts at what you're wearing on your feet." Weathers speaks from experience; she has worn Irish Setter boots on the farm for over five years as they are the only boots that have stood up to her full year of tasks including irrigation, harvest, and tooling.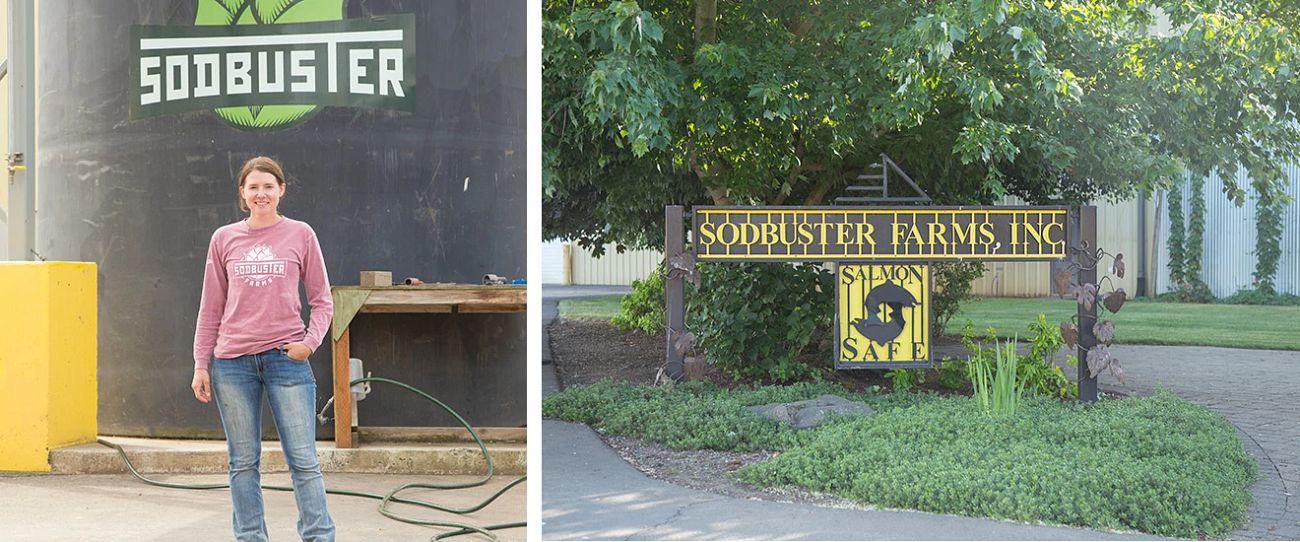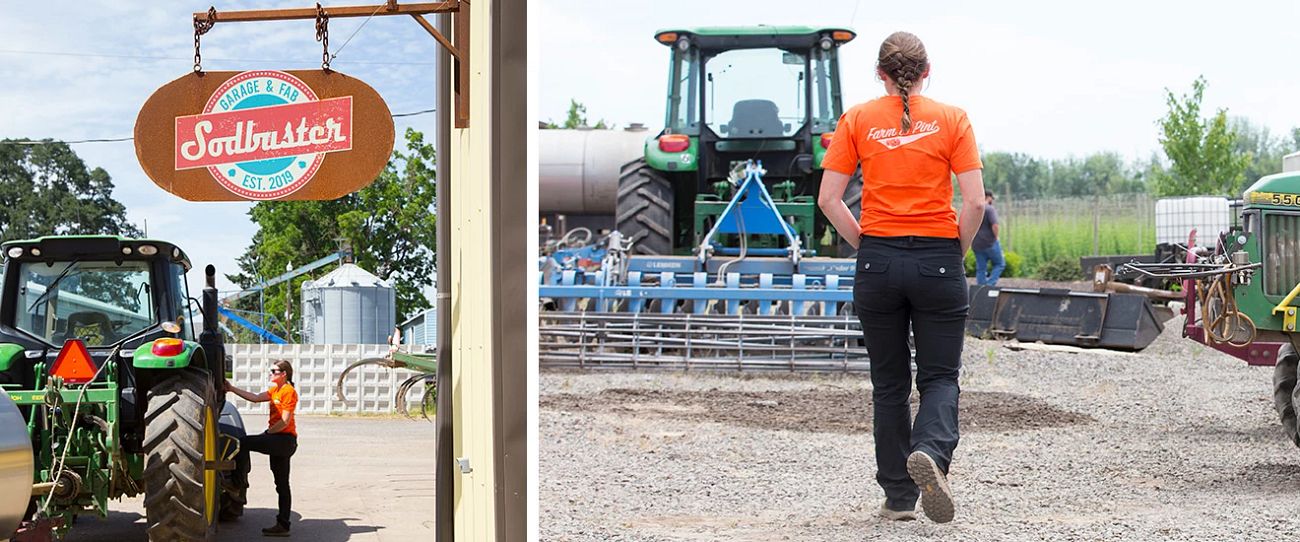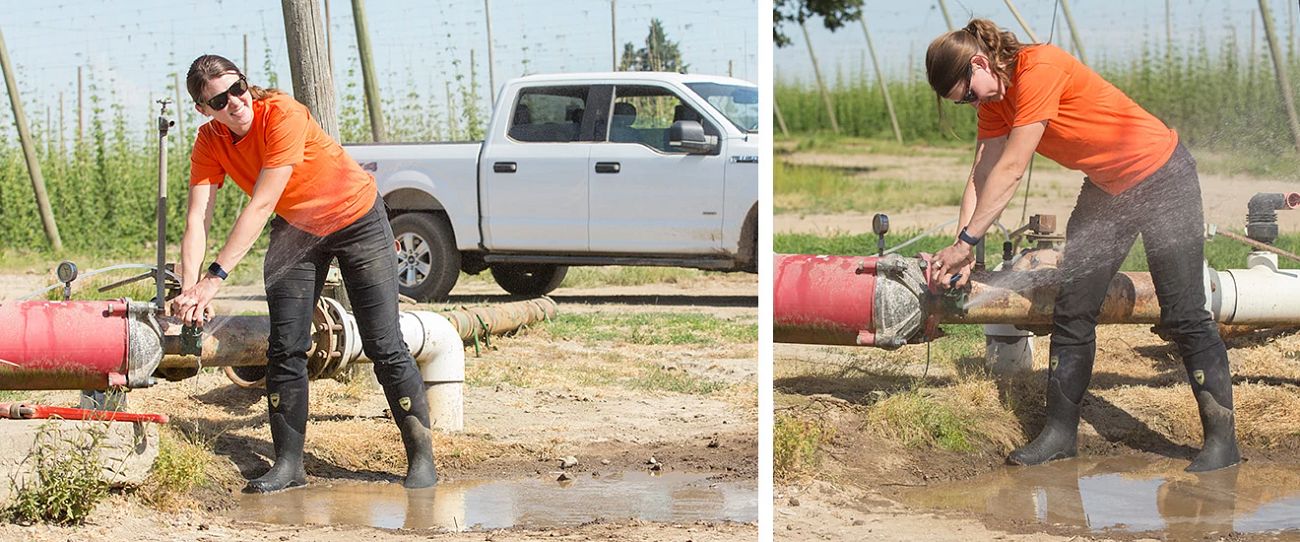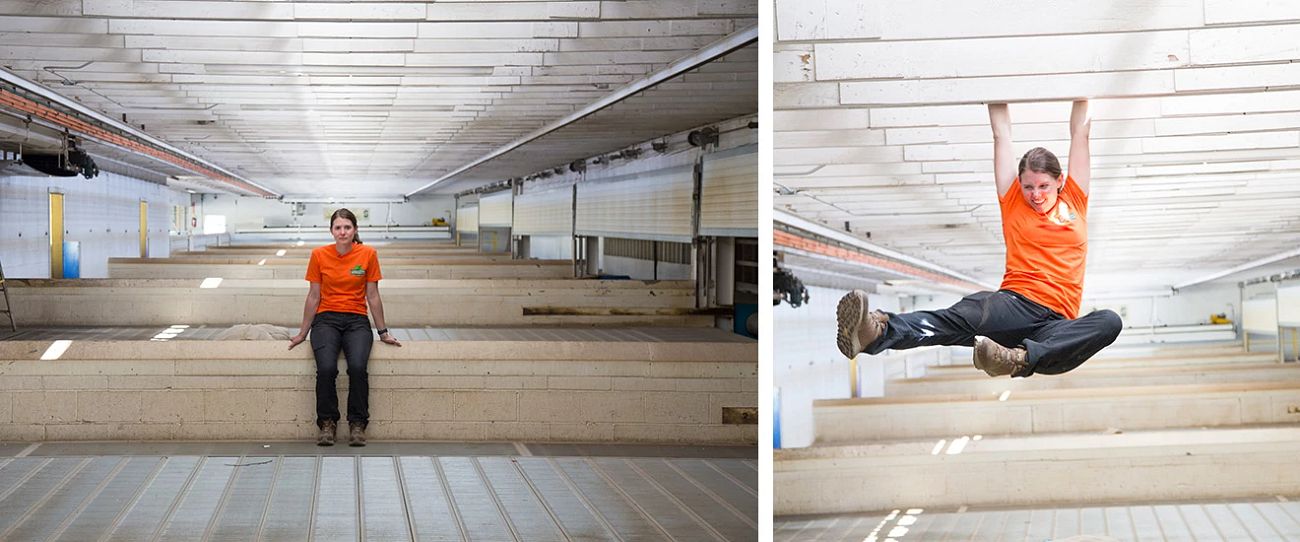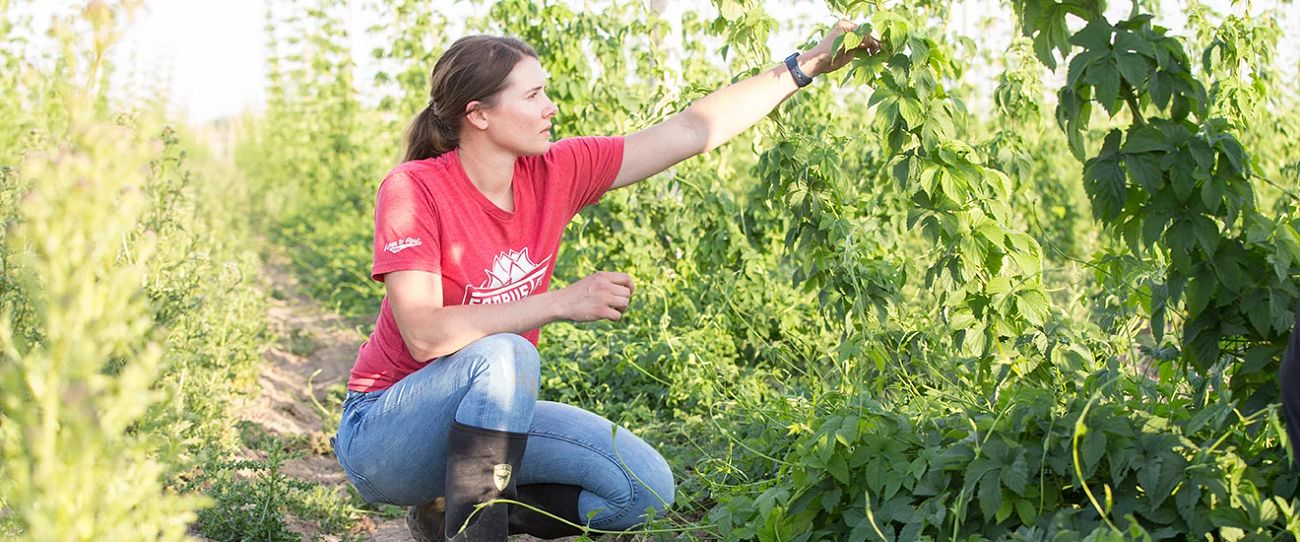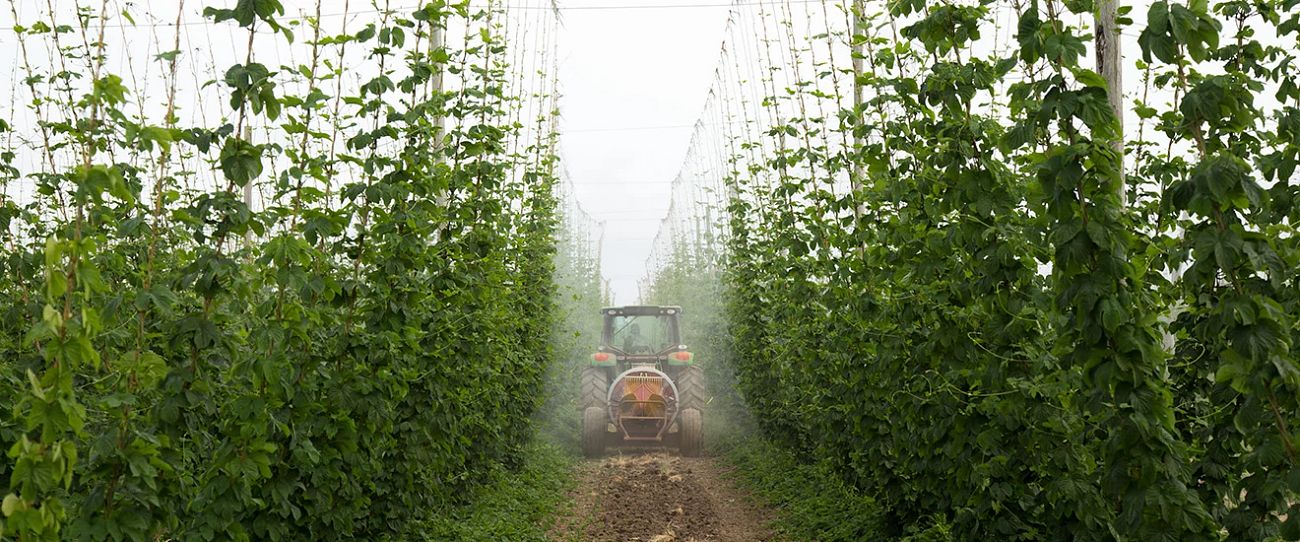 The crew working on field irrigation throughout the growing season is constantly around water and enjoys the waterproof benefits of Irish Setter MudTrek rubber boots. "Sometimes coyotes will be eating mice in our grass fields and bite the soft plastic drip tube to get water. Drip tubes deliver irrigation water to all the hops so it's very important to maintain them," stated Weathers. "When we see a cloud of mist, we know the coyotes have been there and we need to repair the tube."
Water is also found in the adjacent Willamette River. Protecting the Willamette and other waterways is important to Sodbuster Farms. Sodbuster Farms practices regenerative farming and is the largest hop farm in Oregon that has been certified as a Salmon-Safe farm from Salmon-Safe, a non-profit organization that works to protect and restore wild salmon and their habitats in the Pacific Northwest.
"We're mindful of what we're using in the hop yard," explained Weathers. "There's so much rain during Oregon winters that there could be leaching and runoff into those waterways. In order to protect the waterways, we limit which pesticides we use, and we don't disc the soil as much as standard conventional farms may. To help prevent erosion during the winter, we also plant a cover crop between the hop rows. We plant barley, clover or a proprietary mix that promotes beneficial insects. We mow the grass outside of our fields instead of spraying it. All of our fields are planted 30-50 feet away from any riparian area or waterway. At least 5% of our farm footprint is converted into "flora and fauna" areas dedicated to local habitat. We've placed wood duck boxes around the lake and osprey nests high out of the reach of squirrels."
When the hops are ready, they are harvested, and the hop cones are separated from the vines and debris. Hop cones are then dried for preservation. Weathers has worked the dryer since 2008 - like her father before her. Drying is considered the most critical process on a hop farm. When harvested, hops are approximately 80% moisture, and the drying process will aim to reduce the moisture level to around 10% over a period of 5-13 hours. Uneven drying between top and bottom layers of hops is a challenging issue. Hops will spoil if they are too moist while overdried hops lose aroma, are harder to bale, store poorly and can catch fire in the drier. Dried hops are packaged in 200-pound bales and delivered to brokers. Protective toe work boots are essential when working with such heavy bales.
Once the hops have started on their journey to brewers, employees can focus on machinery repairs and prepare for the next season. The farm grows other crops including hazelnuts, grass seed, wheat and barley which have a variety of equipment needs. Work boots with non-metallic protective toes, like Irish Setter Kasota work boots, offer workers protection while working on or repairing heavy machinery like excavators, tractors, harvesters and forklifts.
There are some benefits to working at a hop farm besides beer. Duck blinds have been placed around the lake for family and crew to use. "Hunting is a nice way to unwind after the hop harvest," shared Weathers. "I go duck hunting with my fiancé and our nephews. I like wearing rubber boots when I'm hunting. My Irish Setter MudTreks aren't as hot as other rubber boots. They're really comfortable, which is awesome." When she isn't managing operations at the farm or spending time with family, the 29-year-old also serves on several hop industry committees supporting research, education and government affairs.
"In this industry you have to be well rounded to be successful. People assume farmers are one dimensional but to succeed for 5+ generations you need to be good at not only farming, but soil, welding, tooling, accounting and running a business," shared Weathers. Sodbuster Farms plans to keep investing in tools and practices that will keep the land productive and thriving for generations to come.
More Articles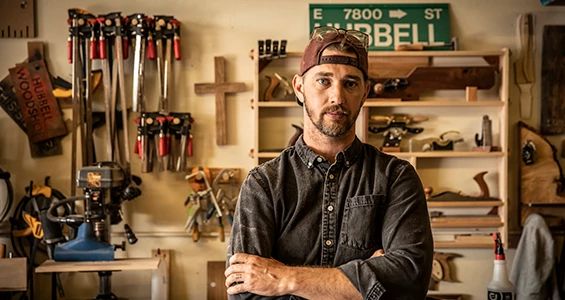 True Grit Meets Fine Grit
Taylor Hubbell self-learned the meticulous artistry of woodworking, unabashedly putting the pedal to the metal in every ounce of free time he had to feed his passion and launch the flourishing woodworking business that he runs today.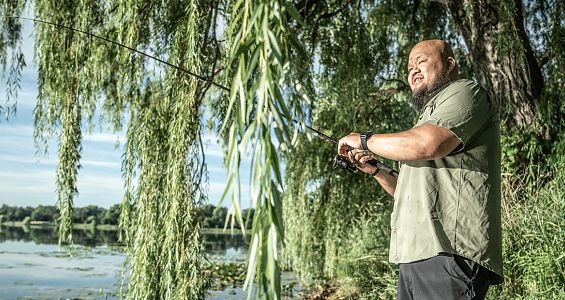 Forging A Legacy Through Hmong Cooking
The son of Hmong refugees from Laos, award-winning chef and outdoorsman Chef Yia Vang uses the Hmong cooking philosophy to showcase his parents' strong legacy of bravery, selflessness and family ties.