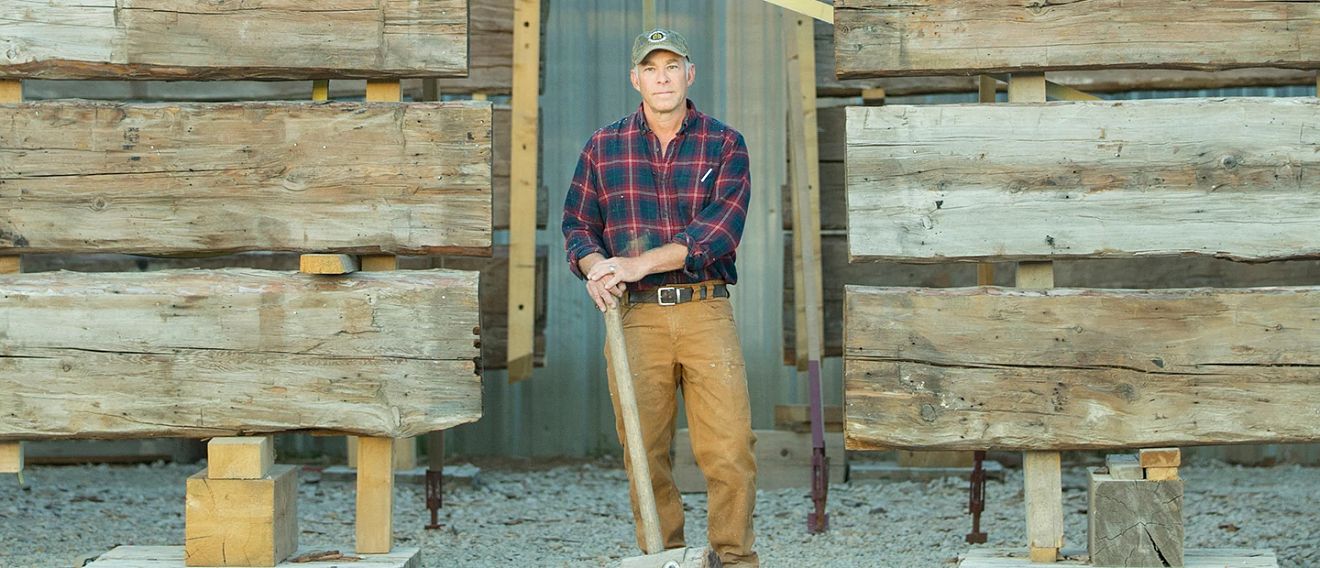 REWARDING WORK RECLAIMING WOOD
Hard-working craftsmen at Southwest Timber Works choose comfortable Irish Setter work boots to Go All Day.
So so Martin Saint-jacques. I operate a timber frame and log building business. We craft timber frame structures and log structures using either new standing dead materials from Western United States or hand-hewn original barn beams from the Northeast. Day starts before light. The rest of my day would be walking from workstation to workstation, just liaising with the guys and seeing if they have any questions. So when you're using it, go maybe do slower strokes because it as a flatbed is going to create a flat plane. Originally, when I first started doing it, it's like falling in love. It's just an unbelievable feeling to be working with this kind of material and doing something that very few people are doing.that very few people are doing. This trade is an old world trade. It requires the use of old hand tools. A lot of those tools, you'll see an antique markets and people don't even really necessarily know what they were used for, and we're still using them here on a daily basis. Traditional techniques that really haven't changed in hundreds of years. Also, with the help of grinders, chainsaws, that sort of thing, the smell of wood, the sawdust down your shirt every day. Everything we do involves the working of wood, really rewarding part of what we do. There's something about using an edge tool that's been honed just right, and you can see that wood curling over the edge of your plane or you're drawing eyes. It's therapeutic and really rewarding. People forget that there's a whole technical side as a knowledge side. People are learning by doing. They're going to be doing things that they've never done, even if they've been in carpentry before or in other trades. They're going to be using tools in a way that they've never used them before. A lot of people have really forgotten what it is to work, to actually just work long hours, miserable weather conditions, doing physical labor in an outdoor setting. You have to be comfortable. Obviously, foot comfort is going to be probably top of the list. We're not sitting at desks. Everybody is standing all day long and in constant motion. Having a good pair of shoes or a good pair of boots is obviously really important. So I've handled every tool thousands of times, and most of what we do can't be learned without doing it physically yourself. It's a premium priced material. This is material that it's a finite commodity. Once it's gone, it'll be gone forever. They've got a human handprint all over them. They've got X marks and and chisel. Mortise is working long hours. Doing physical work are all also rewarding. The culmination of all those things put together makes this, I would say, my perfect job.
Saginaw, Texas - Durable work boots are a necessity at Southwest Timber Works in Saginaw, Texas. Southwest Timber Works supplies antique building materials to contractors and crafts unique log and timber frame buildings. The Southwest Timber Works crew works long days to meet the high demand for premium reclaimed wood products in residential and commercial construction. The crew appreciates comfortable boots, like Irish Setter work boots.
The reclaimed lumber market is growing globally as well as in Texas because of increased environmental awareness, an emphasis on recycling and a rising interest in the materials' aesthetics from architects and builders. Hand-hewn antique beams are a popular architectural element.
"Southwest Timber Works does not cut down one tree to build its inventory," owner Martin St.-Jacques explained proudly. The company acquires reclaimed and antique timbers and barn board from dismantled buildings in the northeastern US and Canada. The items are premium-priced in part because they are a finite commodity. Beetle-killed trees from Colorado and Montana are also used as new materials. Mountain pine beetles may kill the trees, but the lumber is still viable and abundantly available.
The smell of wood and sawdust fills the air as the Southwest Timber Works crew practice their craft. A lot of time is spent on their feet – standing and in motion. Workers clean, sort and grade the wood. They cut mortise and tenon joints and surface and finish new timbers to enhance the appearance. Using power tools like chainsaws and grinders as well as traditional hand tools like chisels and mallets they carefully work materials into handcrafted structures. "We use hand tools and traditional techniques that really haven't changed much in hundreds of years. There's a human handprint on every piece," explained St.-Jacques. "It's very rewarding work. It's almost therapeutic." Industry experience gained by watching and doing are combined with very technical knowledge to complete most of the tasks at Southwest Timber Works.
The company also fabricates log cabins at their shop then dismantles them for reassembly at client sites. The construction and de-construction process demands teamwork and adherence to safety standards. Some wood, like the 24" diameter logs used in log cabins, can be extremely heavy so employees need the protection of safety toe work boots.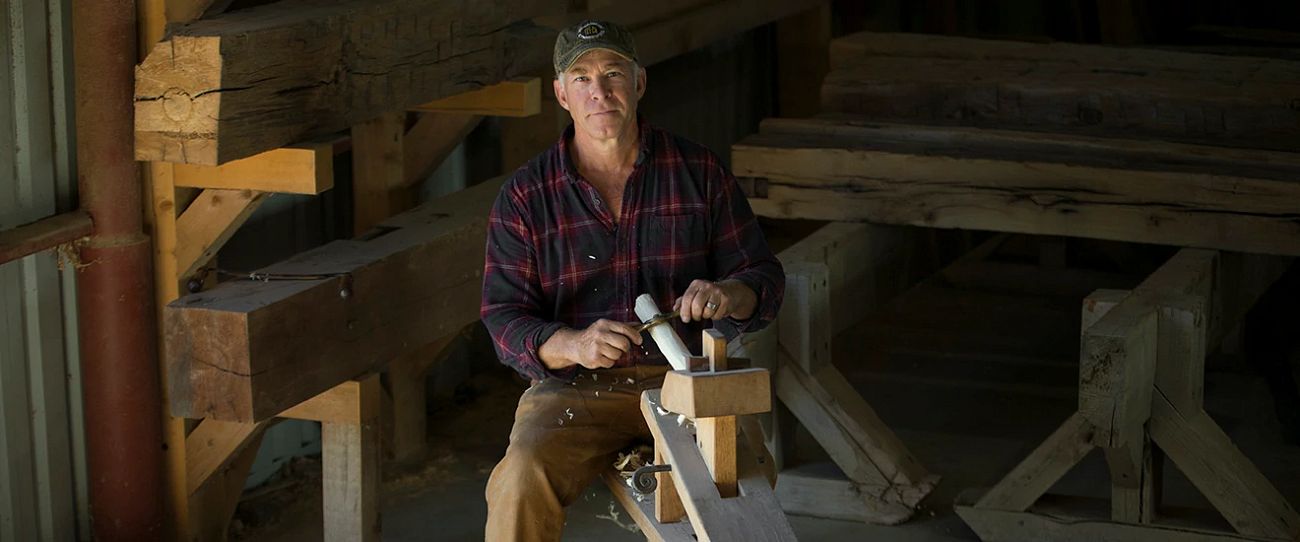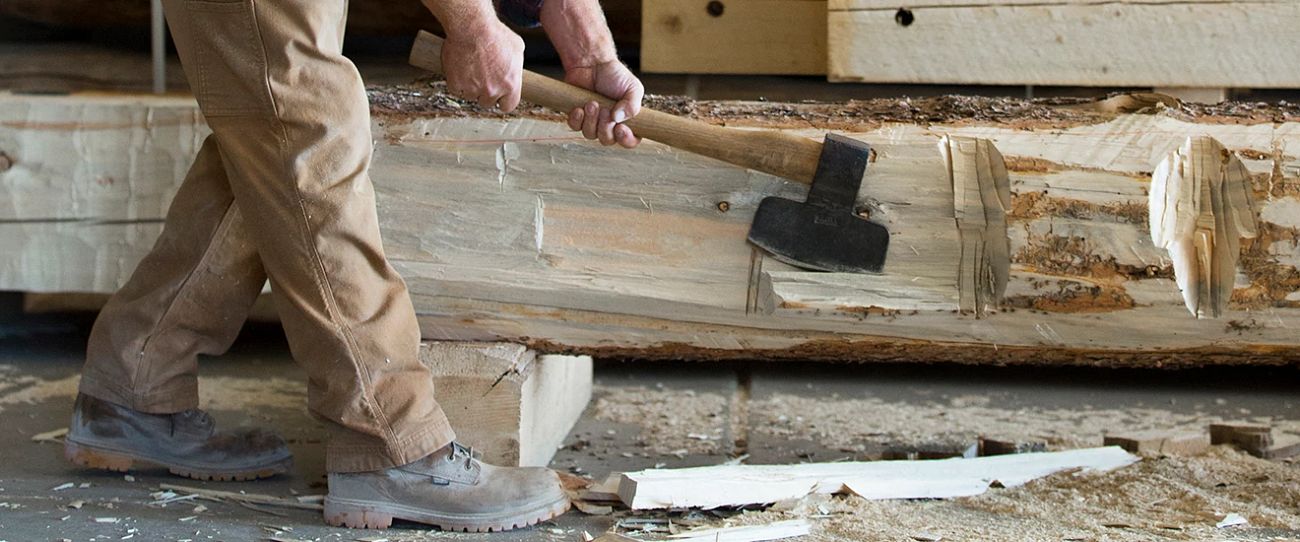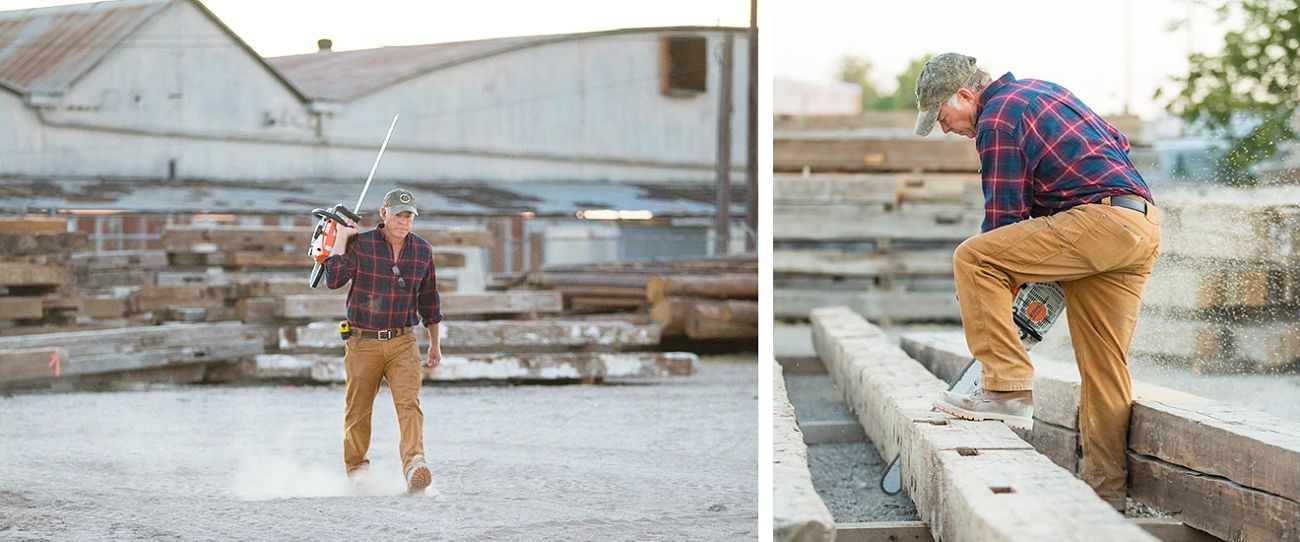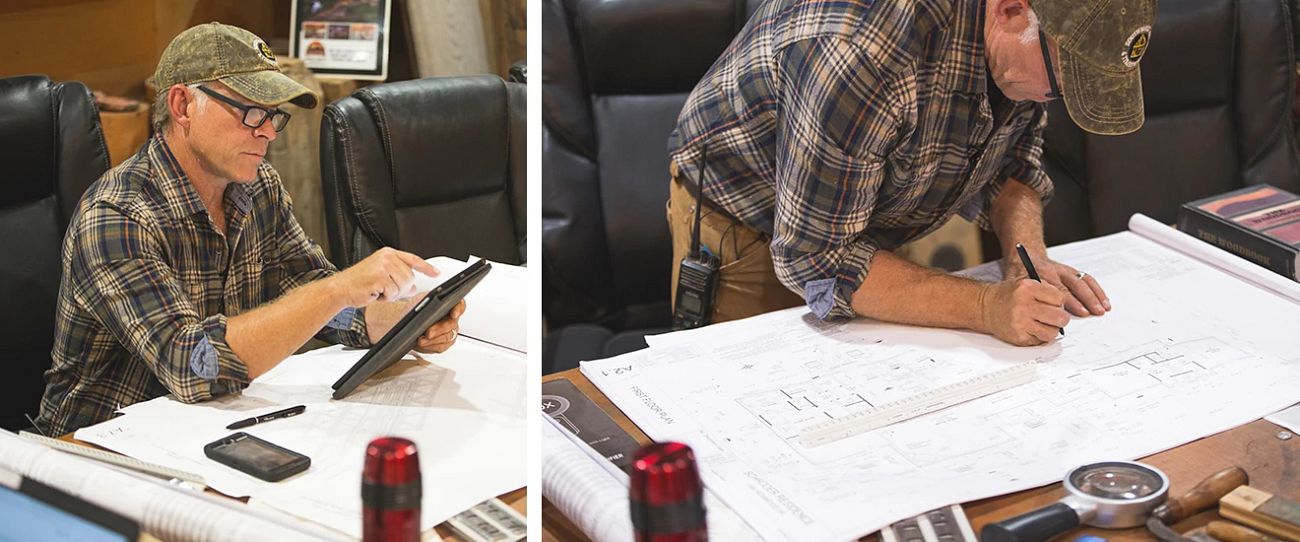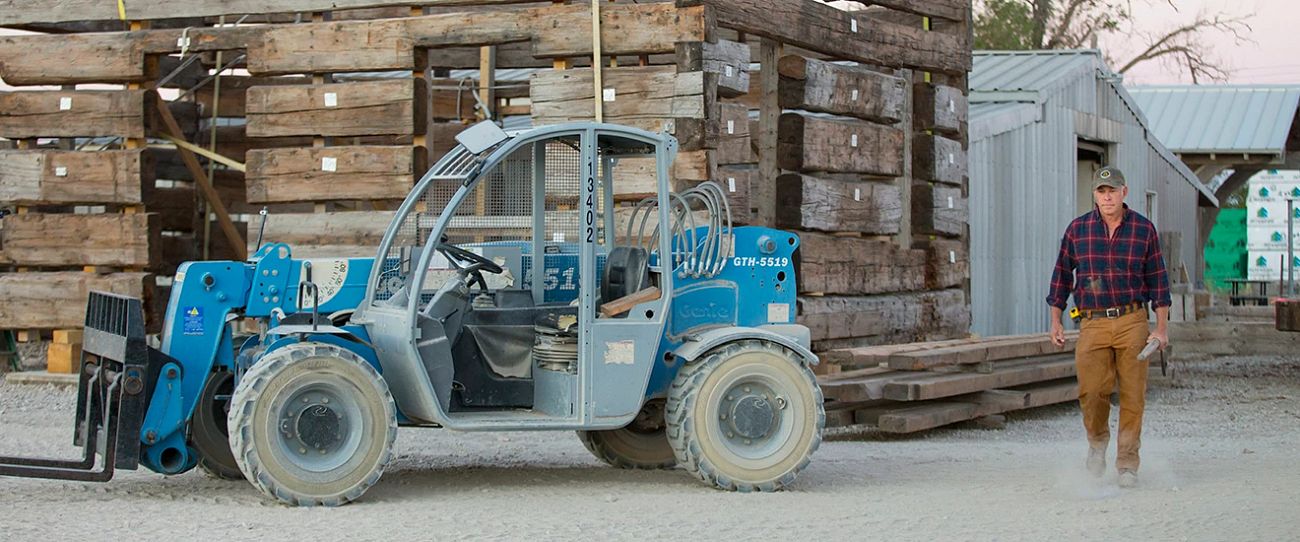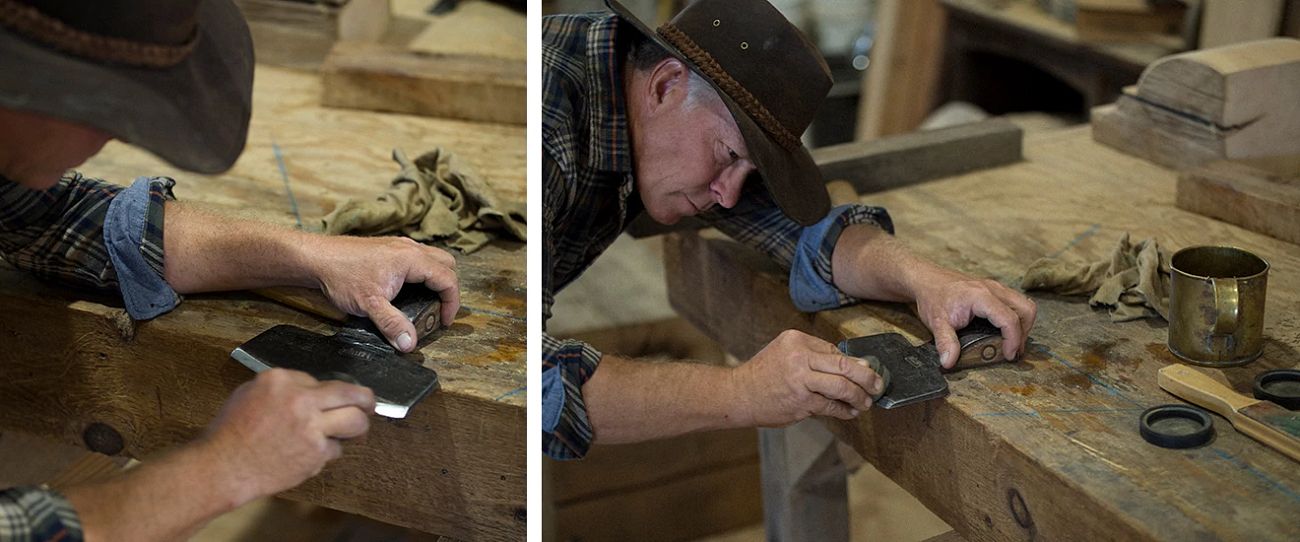 Reclaimed elements from structures built in the 1800's provide an extensive array of items for Southwest Timber Works clients. The company's vast inventory includes entire antique barn frames and log cabins, carefully dismantled – piece by piece, cataloged and lovingly restored. Clients use these dovetail cabins as rustic yet elegant additions to contemporary projects. The crew's extremely physical work in the outdoor elements demands enthusiasm and the right equipment for the tasks at hand.
St.-Jacques discovered his passion for log home and timber frame crafting while working a college summer job. He graduated college with an agricultural technology degree but chose to embrace this specialized trade. Raised in a family of academics, St.-Jacques blazed his own path by choosing a trade profession. "It's cool. My work combines old-world craftsmanship with an old-fashioned medium and techniques. And I'm working outside doing physical work," said St.-Jacques. "I also spend time at a desk drafting, designing and reading plans." His passion and knowledge that comes with over 30 years in the business is passed down to his team of eight craftsman.
People who work on their feet quickly learn the importance of choosing the best work boot for the job. St.-Jacques and his crew like wearing Irish Setter work boots. They value well-crafted work boots – from the stitching to the soles. "These workers recognize quality workmanship and require comfortable, durable boots. The Irish Setter boots soldier on for a long time, just like these guys who put in ten-hour days normally or twelve-hour days on-site," shared St.-Jacques. "Protective toes are needed when dealing with heavy timbers that could fall and heavy equipment that could drive over a foot. Working dawn 'til dusk, we also know that cheaply made boots are uncomfortable."
The Southwest Timber Works crew wears a variety of Irish Setter men's work boots. The versatile Ashby work boot looks good and performs well at work with a lightweight aluminum protective toe. The durable, comfortable sole is heat-resistant. The Wingshooter ST work boot is an Irish Setter work boot that can be resoled and features a traditional leather upper with a non-metallic safety toe and white sole. St.-Jacques wears the lightweight but heavy-duty Irish Setter Hopkins work boots that perform well at both indoor and outdoor work-sites.
When the work boots come off at the end of the day, the Southwest Timber Works team knows they've done some good work and left their mark crafting something ruggedly beautiful.
More Articles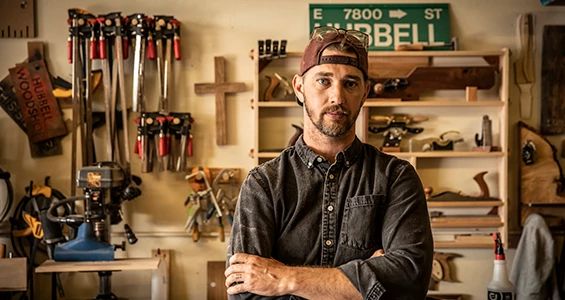 True Grit Meets Fine Grit
Taylor Hubbell self-learned the meticulous artistry of woodworking, unabashedly putting the pedal to the metal in every ounce of free time he had to feed his passion and launch the flourishing woodworking business that he runs today.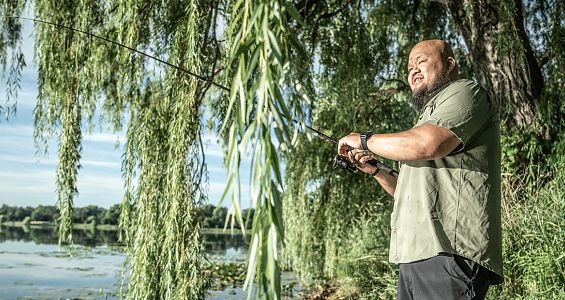 Forging A Legacy Through Hmong Cooking
The son of Hmong refugees from Laos, award-winning chef and outdoorsman Chef Yia Vang uses the Hmong cooking philosophy to showcase his parents' strong legacy of bravery, selflessness and family ties.