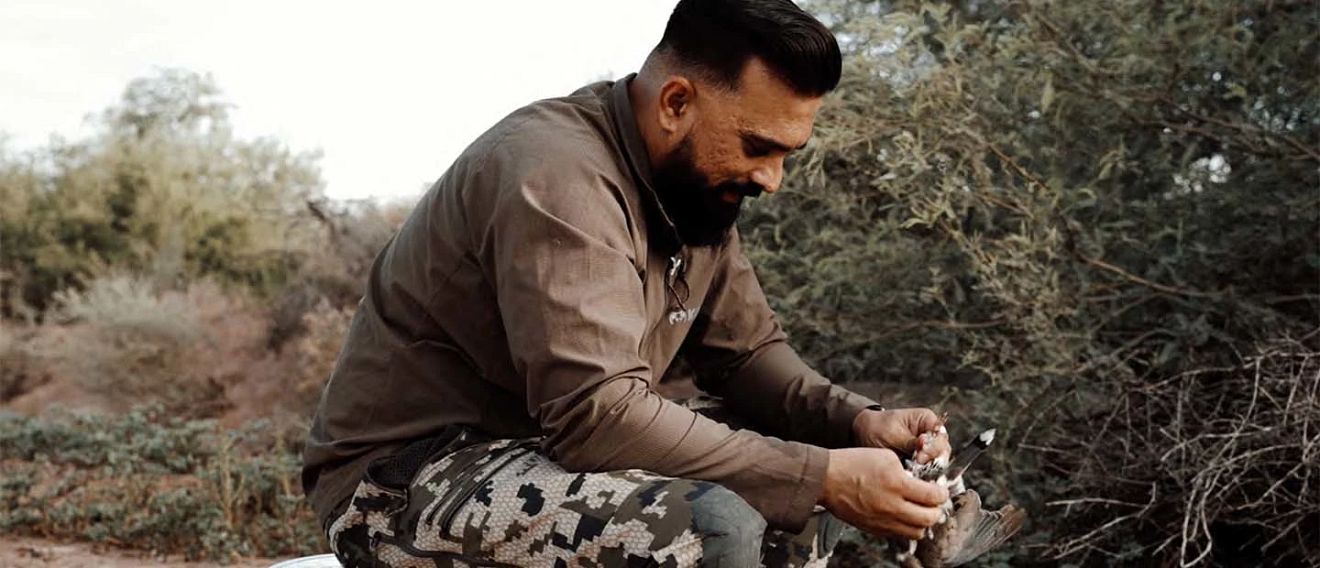 ONE HUNTER'S HISTORY & HERITAGE
Avid hunter and aspiring chef, Gerard Masih, spends Dove opener each year with family and friends. "We hunt the opener ever year, which has now become one of our favorite traditions." Gerard, being a hunter and chef, incorporates his heritage into the meals he prepares with his harvests.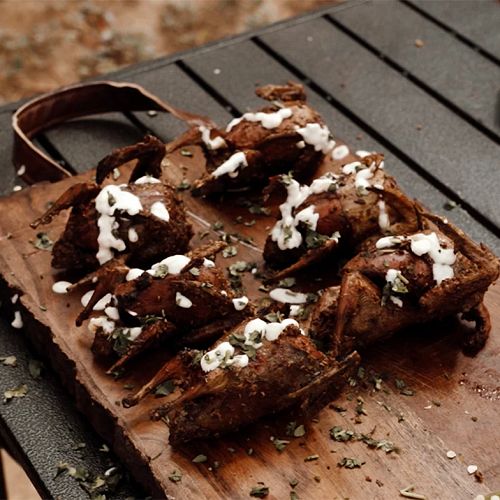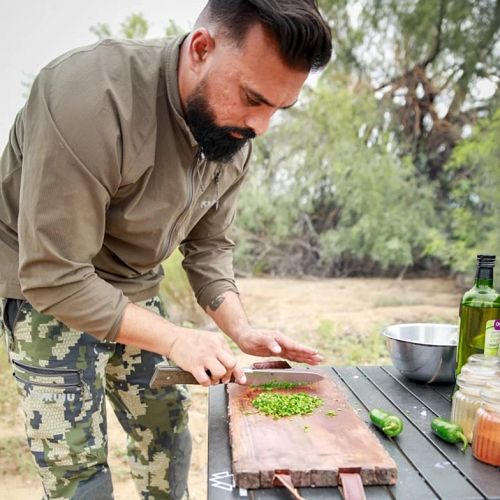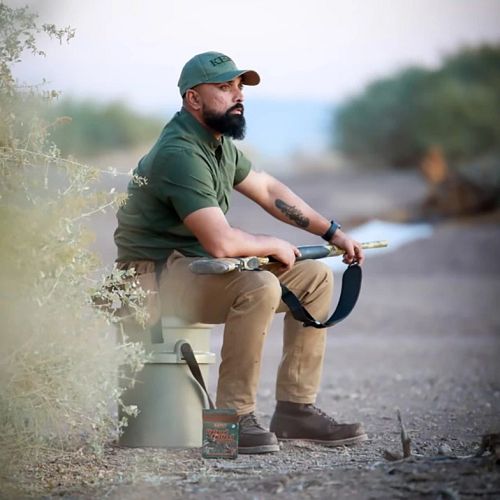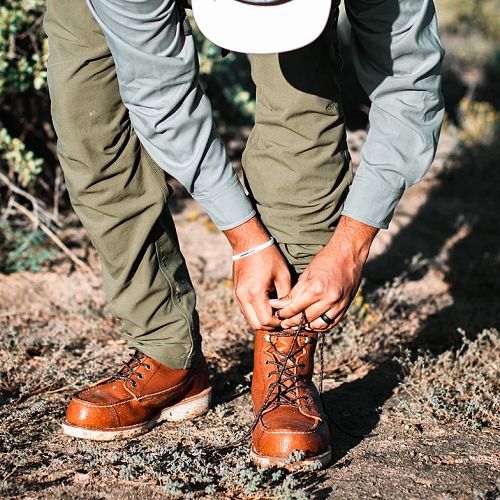 GERARD'S RECIPE:
TANDOORI DOVES WITH SMOKED GARLIC/JALAPEÑO MAYO SAUCE
6 Whole, Plucked Doves
Olive Oil
Dry Rub:
1 teaspoon cumin
1 teaspoon chili pepper
1 teaspoon salt
1 teaspoon celery seeds
Mix dry-rub ingredients. Use olive oil to coat the doves first. It will act as a binder and help stick the dry rub to the doves. Then coat doves with the mixed dry rub ingredients. Preheat grill to 350. Cook doves until internal temp is 160 at the thickest part of the breast. Let rest for 5 minutes.
Smoked Garlic Jalapeno Sauce:
1-1/2 cups fresh garlic cloves
1 smoked jalapeno pepper (remove seeds to make less spicy)
2 tablespoons olive oil
Pulse these ingredients in a blender.
Then, add 1/2 cup of mayo and 1 cup of plain yogurt to the blended jalapeno and garlic. Mix to desired consistency, then drizzle over the tandoori dove and garnish with chopped cilantro.
(upbeat music)

The opener of the dove hunting season brings with it many traditions, memories of hunting with family and close friends. Traditions of keeping you hunting location a secret so no one else will hunt your spot. Over the years, some of friends and family have moved further away. Some even out of the state, but on September 1st no matter where they are or how far apart we are, we all get together every year for the dove opener which has now become one of my favorite family traditions.

(upbeat music)

Hey guys, this is Gerard Masih. I'm a first generation Pakistani American. We're out here dove hunting today. It's a opener of the season. It's the 1st of September, we're out here with my buddies. We shot a couple of doves and I'm gonna show you guys a different way of cooking up the doves. What most people do is they breast the bird out and then make jalapeno poppers out of it. We're we're gonna do something different. I'm gonna add my tradition to it, my heritage, which I'm from Pakistan and we're gonna make some tandoori doves. What tandoori is, tandoori is basically a clay oven and it's really hot and gets real smoky and that's why we're using a tragar today to emulate that smoke and give it a really smokiness flavor to it. We're just gonna keep it simple, use four ingredients which marry really well with wild game and the doves and it'll just come out amazing hope you guys like it.

All right guys, so we're gonna go ahead and start our tandoori mix, the masala. And I'm gonna go ahead and start off with cumin. Cumin is a really good seasoning and pairs really well with any kind of wild game meat. Especially with doves and we're gonna go ahead and make a dry rub and we're gonna start off as using one teaspoon of the cumin. I like my food kind of spicy. So I'm gonna also go ahead and add one teaspoon of chili pepper adding salt to it, keeping it the same all equal ingredients, one teaspoon of salt. And the last I have some celery seeds and this also gives like a nice nuttiness flavor to it and with a smoke, it just turns out amazing. Also one teaspoon of that. Right guys, so I got my ingredients right here. I'm gonna go ahead and stir it up and get all the ingredients all mixed up. And now that we have all our mix ready we're gonna go ahead and take our doves and put a light coating of olive oil on it. And what that's gonna do is just gonna help our rub just stick on them much better. And when you put on the grill, it'll just stay on.

All right, guys, so I got my grill turned up to 350 degrees. It's nice and hot. I'm gonna go ahead and throw my doves on there. Now they're already marinated and we're gonna go ahead and let 'em smoke up and cook up. All right, guys. So now that our doves are smoking on the grill we're gonna go ahead and make the sauce and the sauce I'm gonna make today is smoked garlic jalapeno mayo. It's a simple sauce and we're gonna go ahead and start off with one and a half garlic that's already smoked. I'm gonna put one smoked jalapeno pepper in it. And if you guys want it not to be as spicy, you guys can take, go ahead and take the seeds out. I like my stuff spicy. So I'm gonna go ahead and leave that in. To it, I'm gonna go ahead and add just a little bit of olive oil and then put that in a blender and go ahead and give it a mix. All right guys, so I'm gonna go and take the temperature on my doves and I want it around 160 and that's how I'm gonna pull 'em out and let 'em rest. We're just gonna go ahead and check in the thickest part of the breast. And we're now sitting right at 160. So I'm gonna go ahead and pull it off and let these guys rest for about five minutes. All right you guys, so this is the final dish right here and this is tandoori doves a drizzled with smoked garlic jalapeno mayo.

(upbeat music)
More Articles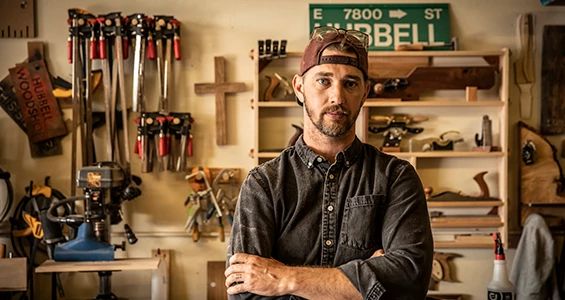 True Grit Meets Fine Grit
Taylor Hubbell self-learned the meticulous artistry of woodworking, unabashedly putting the pedal to the metal in every ounce of free time he had to feed his passion and launch the flourishing woodworking business that he runs today.