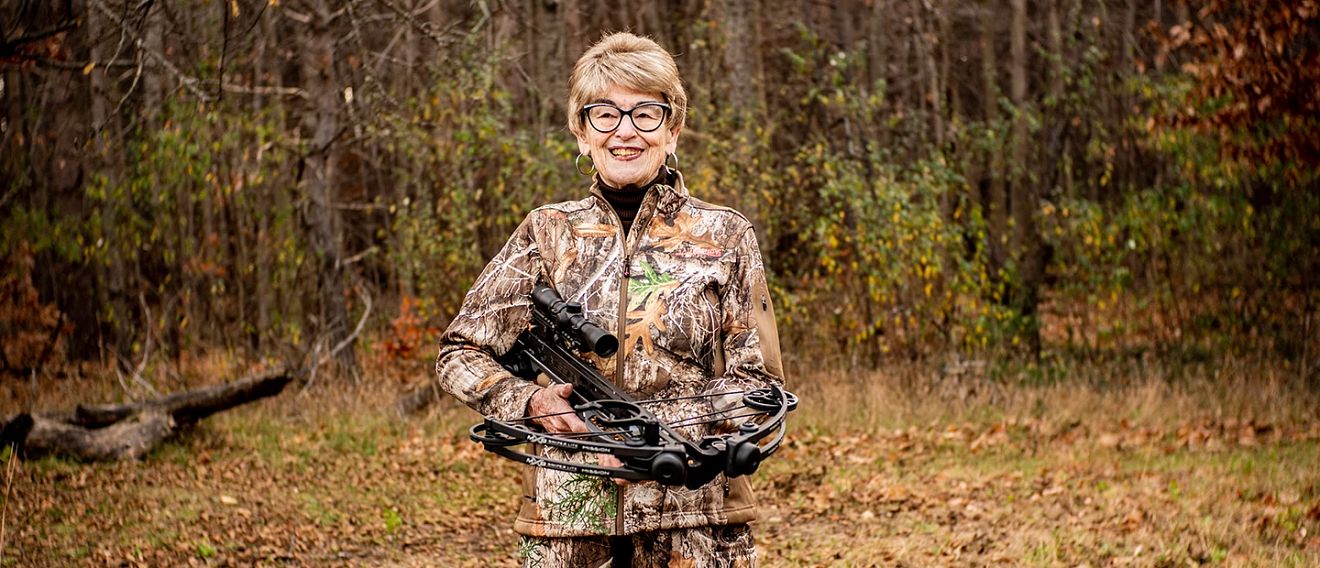 PATIENCE IS THE KEY FOR RESPONSIBLE HUNTING
This determined woman proves that grit, talent, and wisdom only grow stronger with age, and reminds us that patience is a hunter's greatest virtue.
My name is Kay Richey and I am 86 years old. I love to hunt and I'm very determined to continue to hunt as long as I can. I look forward to hunting as much today as I did 50 years ago. It's probably one of the times that I feel the closest to my Maker. I'm always an evening hunter, so having warm gear from the very tip of your toes all the way up to the headgear is so important because if your feet get cold, you cannot sit still. The most important thing is to have patience and enjoy everything that is going on and if you're in tune with nature, you'll see everything that moves.
Lake Ann, Michigan - Amid the towering pine trees, rustling orange leaves and crisp October air flowing through the hunting grounds near Lake Ann, Michigan, 86-year-old hunter Kay Richey sits serenely in her ground-level hunting blind. Though Richey has ventured all across North America, in pursuit of her passion, the hunter is perfectly at home in her favorite and most familiar hunting spot in the world.
Armed with enviable patience, and a crossbow seated firmly in her shoulder, the experienced hunter tames her adrenaline by taking one long deep breath after the other and piercing her vision on the heart of an oncoming whitetail deer.
Though she is eye-level with the deer, which is standing a mere 15 yards away from the end of her bow, Richey feels no sense of urgency or pressure. The moment draws out longer and longer as Richey waits for the deer to reach the perfect position to take a deadly shot. If it doesn't, Richey will hold her fire.
"If a deer comes in and does not give me a good broad side quartering-away shot to the heart or lung area, I will not take the shot. That's my motto," says Richey, who has hunted every animal from deer, turkey, bear, caribou, and more throughout her career. "Patience is a quality that too many people underestimate, but it is the most important quality a hunter can have."
"When I first started hunting, I lost a deer, and that was the most sickening feeling in the world," said Richey. "It plays with your mind if you are truly a hunter who loves everything about hunting. When you have the utmost respect for an animal, you don't want to see that animal get wounded and suffer. From then on, I have dedicated myself to patience and precision."
This hunter is keenly aware that precision cannot happen without substantial planning. That's why Kay's commitment to her values begins far before she is seated in her blind - it begins at home, lacing up her boots.
"Having solid equipment, especially good boots, is so important," said Richey. "If you are focusing on how uncomfortable you feel, or how cold your feet are, it takes your concentration away from your shot. You need to be able to focus. That means having no distractions."
"When you have the utmost respect for an animal, you don't want to see that animal get wounded and suffer. From then on, I have dedicated myself to patience and precision."
For Richey, the fun in hunting isn't only in what she takes home. In fact, this outdoorswoman often spends the first few days of Michigan's deer hunting season (archery begins Oct. 1; firearm begins Nov. 15) anticipating that she will not make even one single shot, whether it's with her trusty Thompson Center single-shot rifle or her favorite crossbow. For her, a day in the field is all about being in tune with nature.
"I may not even see a deer if I'm out hunting. But nonetheless, I see everything that mother nature has to offer," said Richey. "Here in Michigan, our archery deer season starts in October, which is without a doubt the most beautiful month of the year up here. The entire forest is colored orange, red, and golden. I can - and do - sit there for hours on end."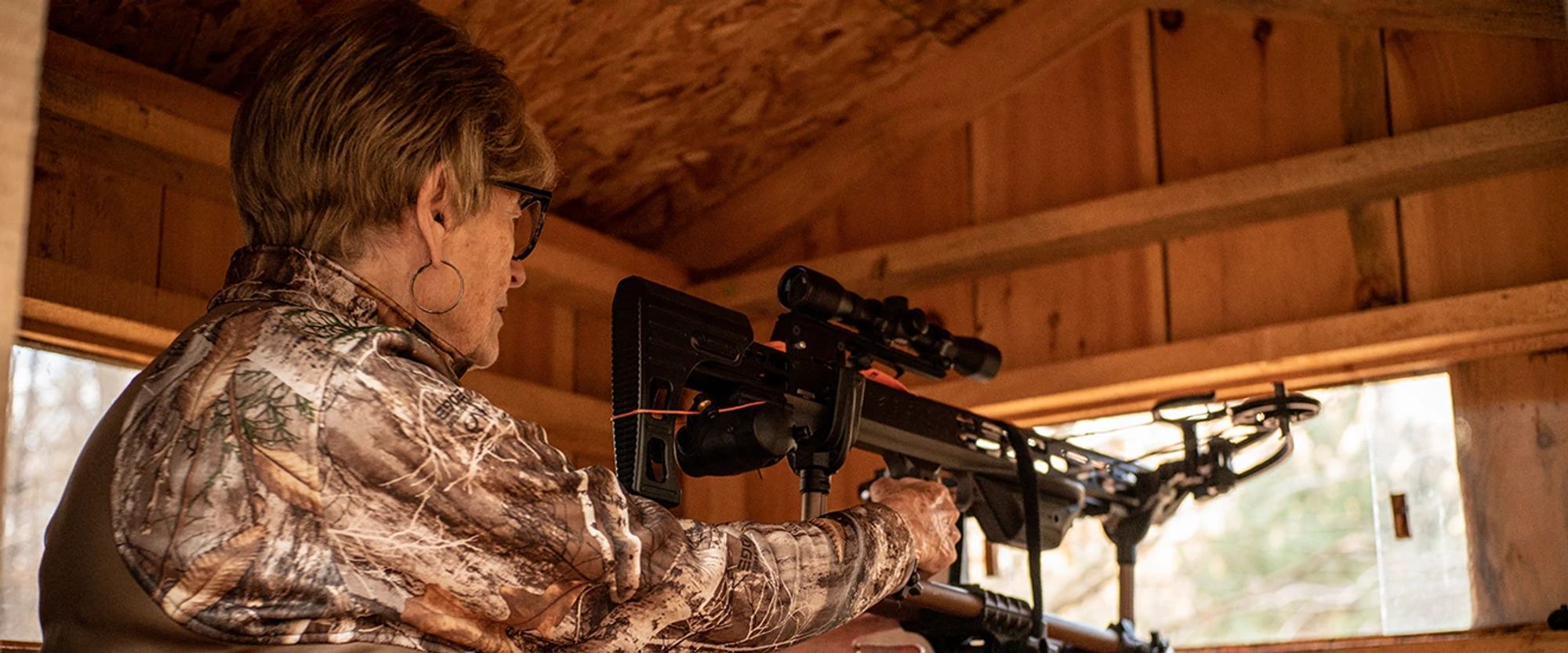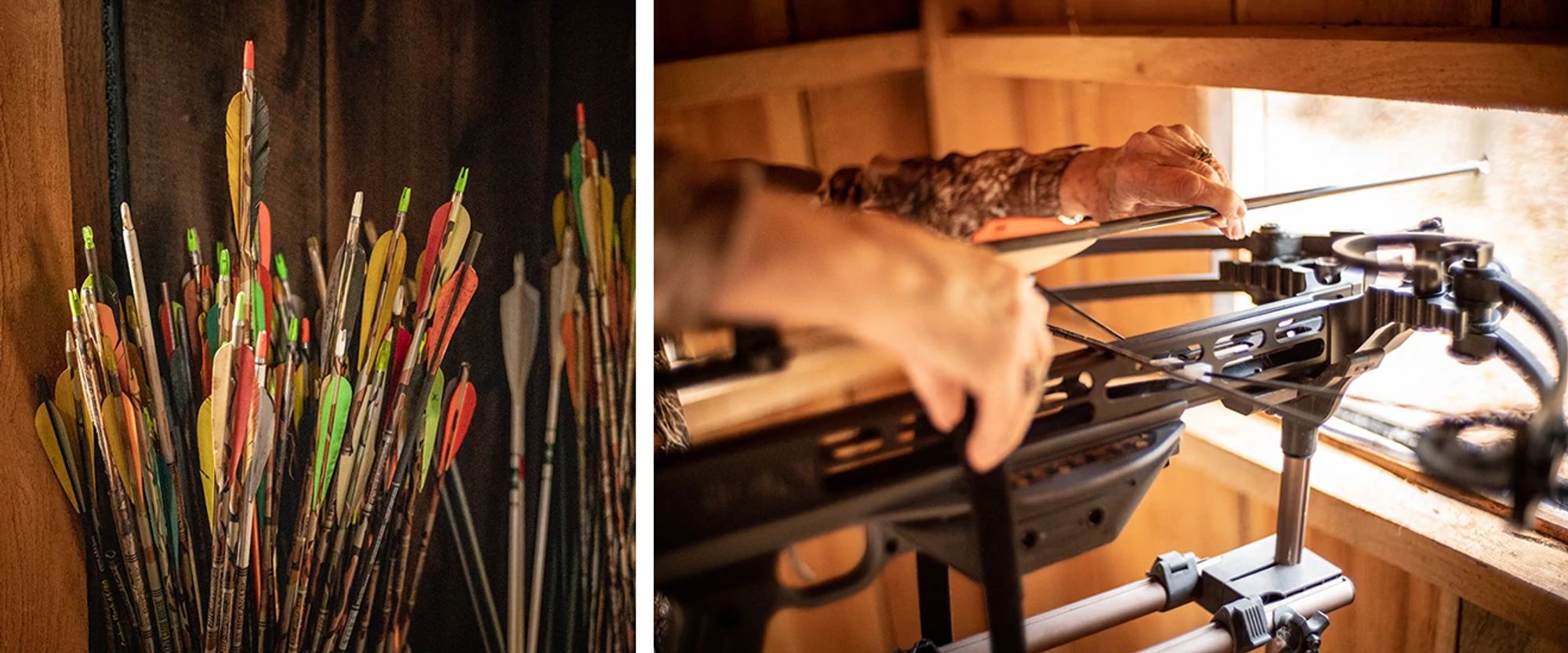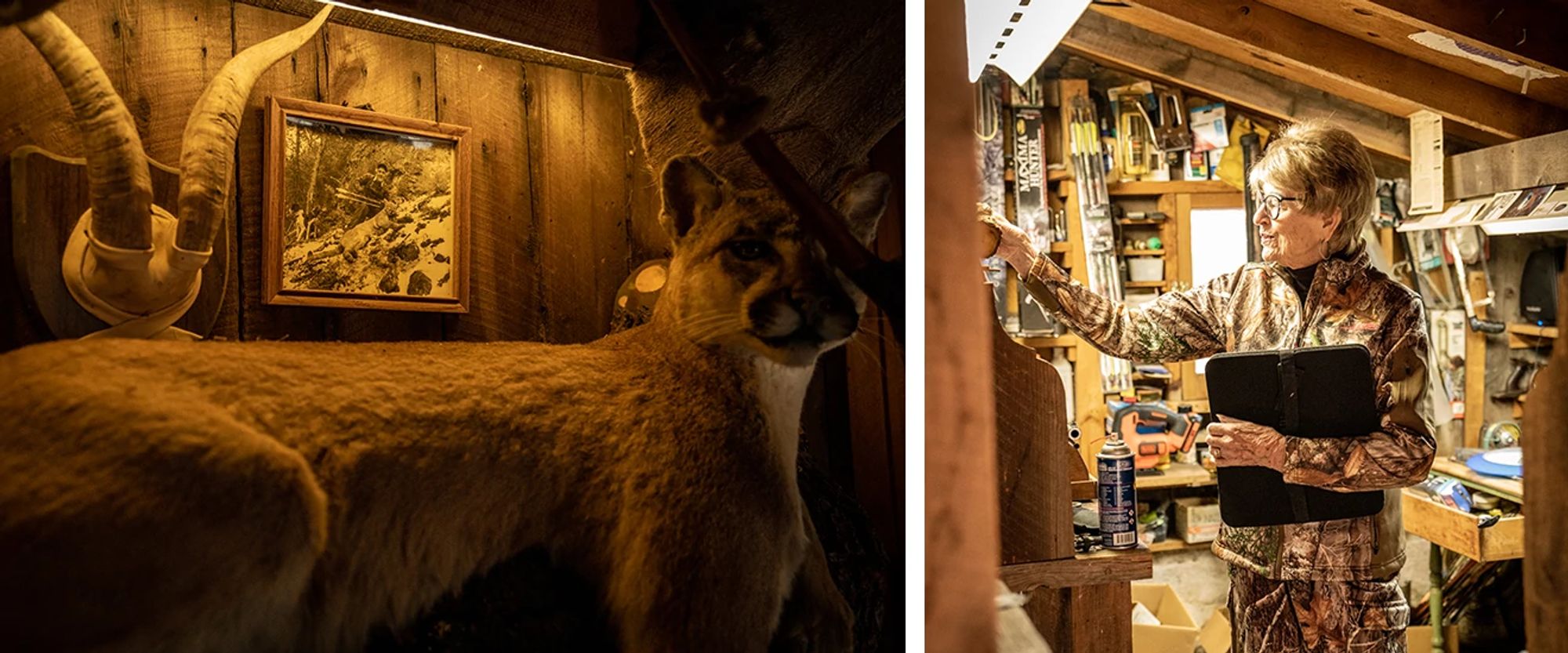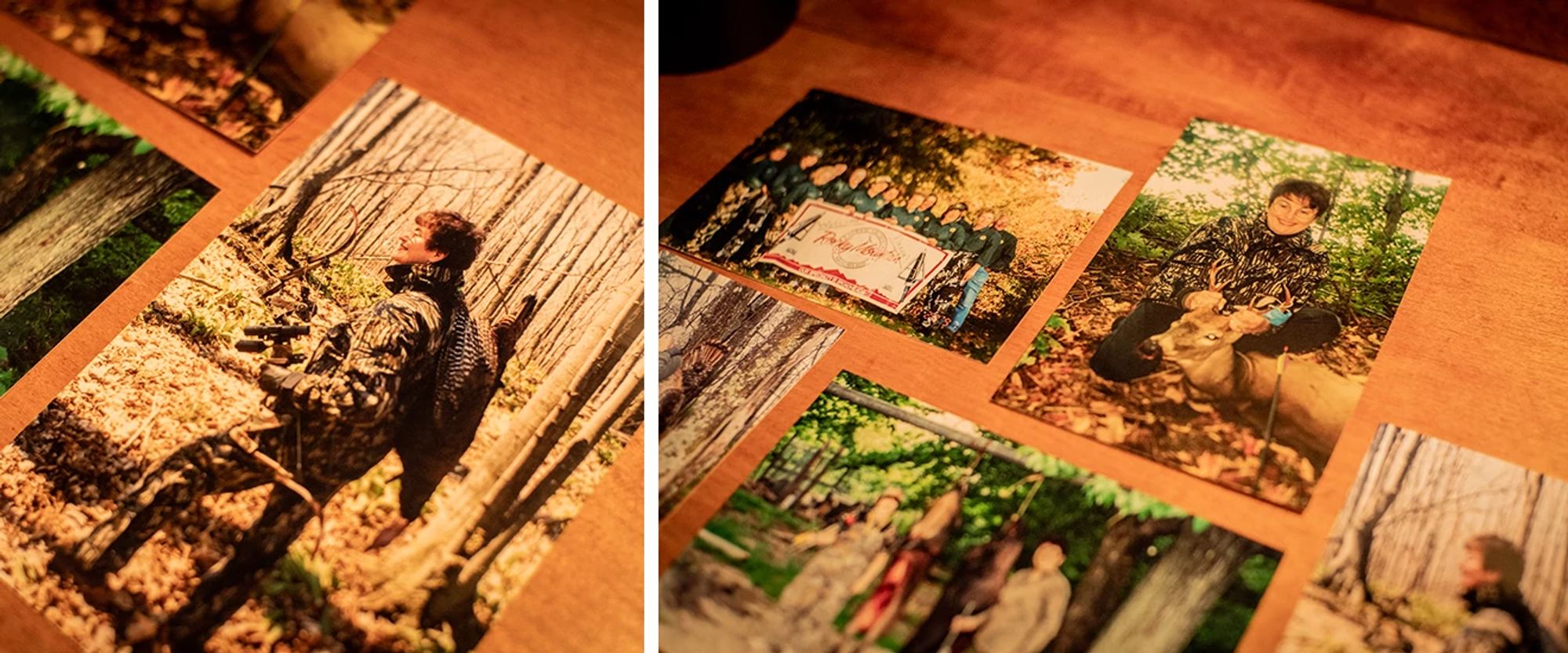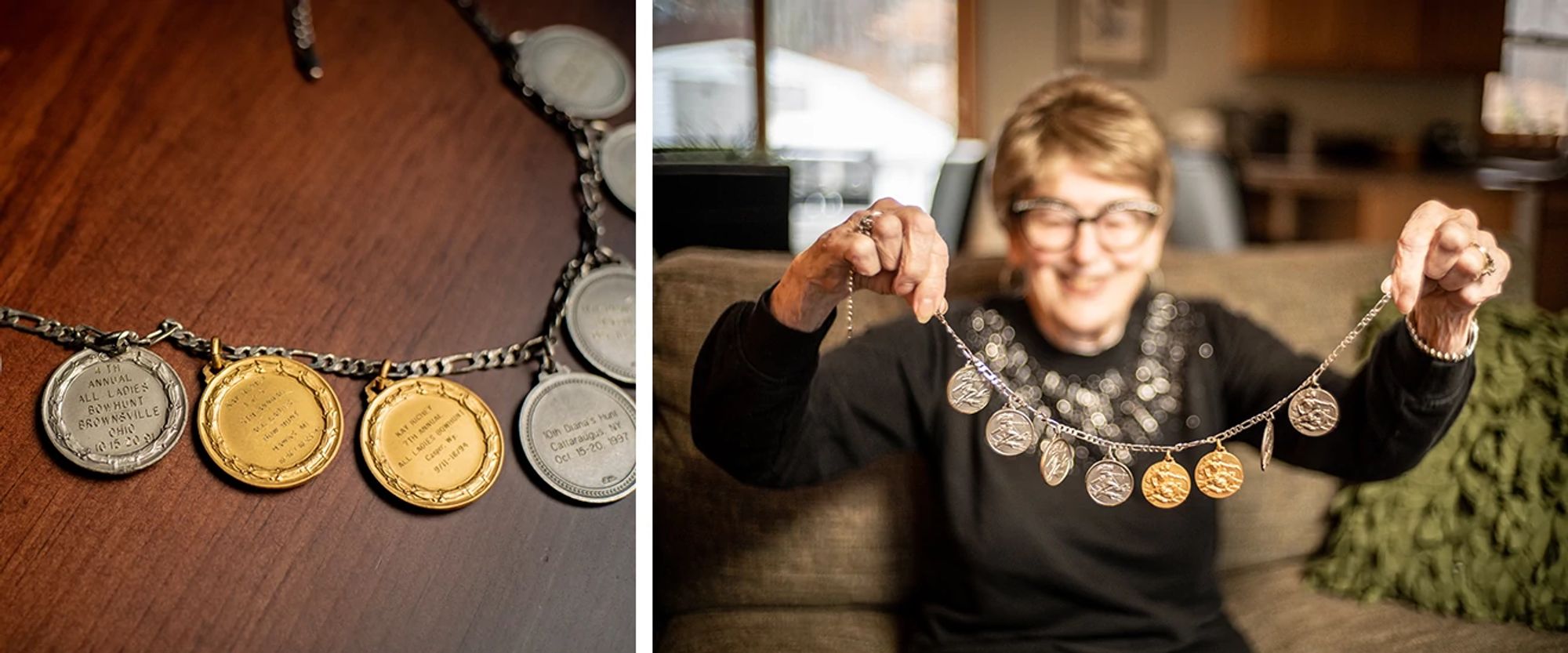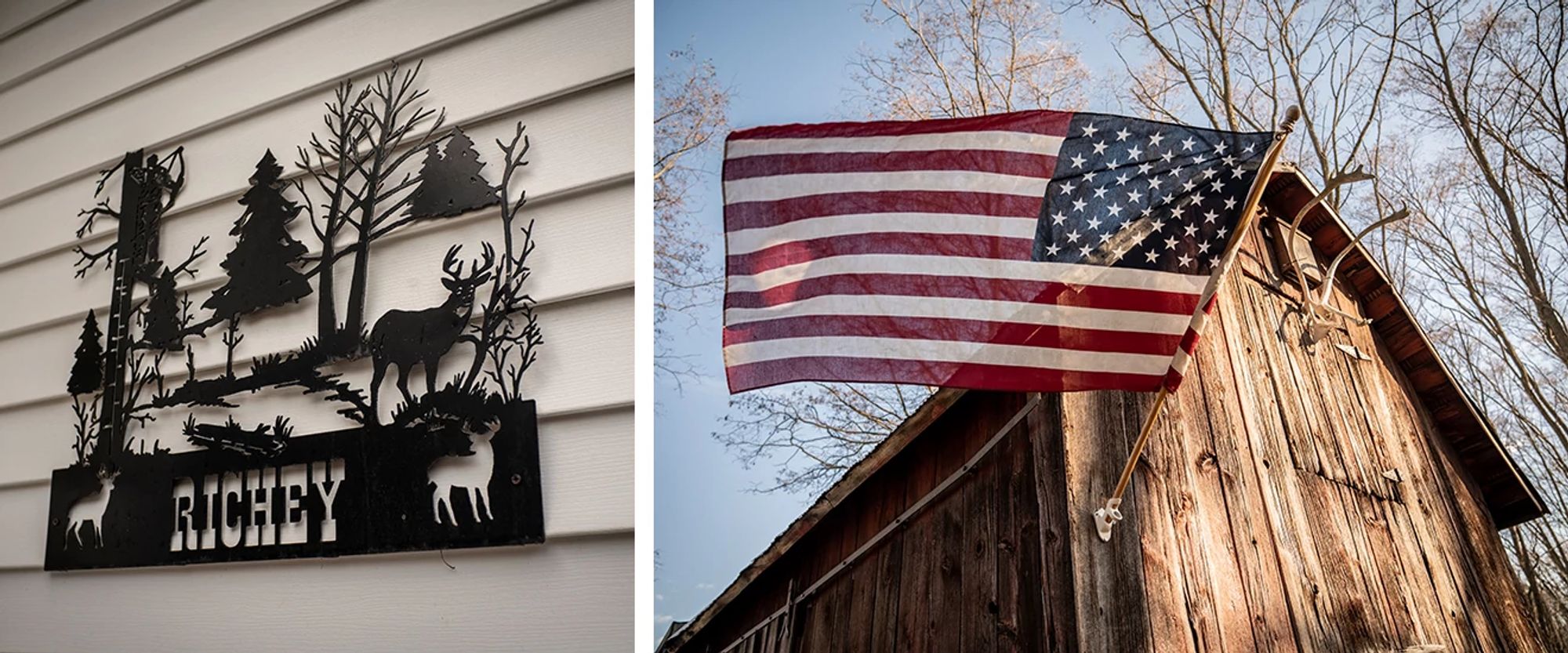 The Early Years
Though Richey is now thoroughly infatuated with the sport, the sportswoman didn't begin her career as a hunter and angler until she married her late husband, outdoor writer Dave Richey, at 40 years old.
Realizing she had an affinity for the sport, Richey did not remain a novice for long. Soon after her first hunt, Richey joined a group called The Diana's, an organization of accredited women hunters who gathered once a year to hunt together.
"When Ann Clark invited me to the first Diana's hunt, I walked around like a peacock for a week. It was a real thrill," said Richey. "We also hunted with Ann Hoyt of Hoyt Archery. A few of the men who saw us out on the field didn't have much experience with women who were serious bowhunters, but by the end of their time with us, they changed their tune. My experiences with that group were always fantastic."
Though both women have now passed, Ann Clark and Ann Hoyt live on in the Archery Hall of Fame in Springfield, Missouri.
GROWING WITH THE SPORT
Now, "86 years young," according to Richey, the way she goes about the sport has changed with time. Nowadays, when Richey goes into the field (nearly every day in the fall) her son-in-law walks her out to her coop on their property in the afternoon and picks her up again once the sun sets.
"Every time I say I'm 86, my family says back, 'It's only a number.' Because they know how I feel about getting out," said Richey. "They do everything they can to see that I have the opportunity to keep doing it."
At her age, Richey exclusively hunts for deer, but, in the words of Richey herself, she has, "hunted in just about every place imaginable." From turkey hunting in South Dakota, to caribou hunting in Quebec, to fishing around the clock in the infinite summertime daylight on Great Bear Lake, Northwest Territories (NWT) the limit to Richey's repertoire simply does not exist.
"My most memorable time hunting was taking my three grandchildren at the ages of five, three, and a year and a half. I took all three of them out into an enclosed hunting blind, and they watched me shoot a buck with a compound bow," said Richey.
SAVORING THE WILD
Richey shows her spirit of appreciation for the outdoors through her cooking, writing for Outdoor Life and other magazines, and her two cookbooks, Savor the Wild: Favorite Recipes of Outdoor Writers and Fish & Game Menu Cookbook - Meal Planning for Sportsmen. The game chef published her works right at the onset of the field-to-table movement, after having the idea to compile recipes from her fellow writers in The Outdoor Writers Association of America (OWAA), an organization to which she and her late husband belonged.
Having grown up cooking for her family while her mother worked late hours at a library in Idaho, Richey knew right away in her hunting career that utilizing the meat would have to be part of the deal.
"I love venison, so I started incorporating venison into our meals as soon as I started to hunt," said Richey. "There is a great deal of pride, happiness, and enjoying the lot of it in being able to bring something home and cook it up."
Whenever Richey's days in the field yield more meat than her family can eat, she donates the remainder to her local food bank. Harvesting the meat she brings home goes hand-in-hand with her value of patience and only making deadly shots. It is at the crux of Richey's hunting ethic, which is to demonstrate the utmost respect for the game that she takes.
"My advice for the next generation of hunters is absolutely to respect the environment that you're hunting in. Leave the earth the way you find it, and don't misjudge that everything is here for a reason," said Richey. "We have to cherish what has been put here for us. That means everybody has to have the utmost respect for not only their weapon, their equipment and the companions that hunt with them, but they have to show respect to the earth and to game as well."
To experience Kay Richey's delicious game meals for yourself, view her cookbook here.
More Articles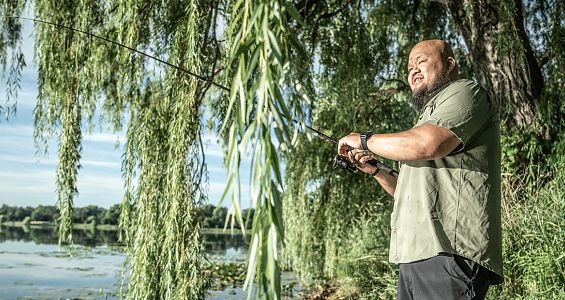 Forging A Legacy Through Hmong Cooking
The son of Hmong refugees from Laos, award-winning chef and outdoorsman Chef Yia Vang uses the Hmong cooking philosophy to showcase his parents' strong legacy of bravery, selflessness and family ties.