IRISH SETTER® KITTSON WORK BOOTS OFFER WORKERS BEST-IN-CLASS SLIP RESISTANCE NEEDED FOR OUTSIDE WORK
RED WING, MN (December 2022)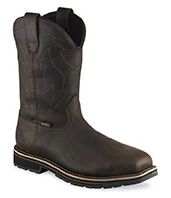 STYLE 83976
Media Contact: Kim Emery at kim@fireflypublicity.com is available to assist media with questions.
Irish Setter Kittson work boots are designed for work in outdoor environments like construction, warehousing, transportation, and farm and ranch. These work boots get the job done in comfort and style - without unnecessary features, bells and whistles.
Western styling and stitching offer classic accents to the rugged, full grain waterproof leather uppers. Pull-on styles provide a proven comfortable fit and square toe design. UltraDry™ waterproof construction in select styles delivers long-lasting protection.
Asymmetrical steel safety toe caps are designed to offer more toe room and meet ASTM safety standards. A steel shank adds underfoot stability. Welted construction is rugged, long-lasting and allows for resoling if needed in the future. EnerG material underfoot provides comfort and sustained support through an energy-returning core sandwiched between midsole and outsole. EnerG delivers a recharging burst of energy with every step.
A padded memory foam collar on 6" styles adds to the comfort of this work boot. The 11" pull on styles are easy to pull on and take off while also providing an excellent fit. A removable polyurethane footbed allows flexibility to change the footbed to customize the fit and add additional arch supports if necessary.
The Rubber/EVA Treker outsole is combined with an EVA midsole which reduces weight and provides underfoot cushioning. The outsoles provides offers best-in-class slip-resistance with shallow lugs on a flat platform. This dark, but non-marking, outsole offers best-in-class safety ratings in slip resistance, oil/gas, chemicals, abrasions and heat. Soles are heat-resistant to melting at up to 475 degrees Fahrenheit.
Styles with Electrical Hazard protective sole and heel construction are designed to reduce hazards due to contact of the outsole with electrically energized parts and to provide a secondary source of protection.
"Irish Setter Kittson work boots offer no-nonsense protection in outdoor jobs," said Charley Bryant, Irish Setter Product Merchant for Red Wing Shoe Company. "The durable Kittson boots will keep workers comfortable in demanding environments."
See Irishsetterboots.com website for rating/standards information.
Men's Kittson Work Boots (sizes 8-12, 13, 14 in D widths and EE widths):
Style #83662 is a 6" hiker $164.99*
Style #83663 is a 6" hiker $159.99*
Style #83666 is a 6" hiker $164.99*
Style #83974 is an 11" pull-on boot $179.99*
Style #83976 is an 11" pull-on boot $184.99*
Style #83978 is an 11" pull-on boot $184.99*
Style #83979 is an 11" pull-on boot $174.99*
Irish Setter boots are offered at select retailers and online. Please visit www.irishsetterboots.com for more product details and availability.
About Irish Setter
Irish Setter boots help people who work and enjoy time outdoors to go all-day by producing a full line of purpose-built footwear. Irish Setter uses leading technologies and the finest materials to offer customers the highest quality outdoor footwear. Irish Setter is a division of the Red Wing Shoe Company and is based in Red Wing, MN, along the banks and bluffs of the Mississippi River. For more information about Irish Setter's heritage, products and retailers, visit www.irishsetterboots.com.
Download Images
*Prices shown are suggested retail in USD.