NEW COLORS FOR POPULAR IRISH SETTER® WINGSHOOTER BOOTS
RED WING, MN (December 2019)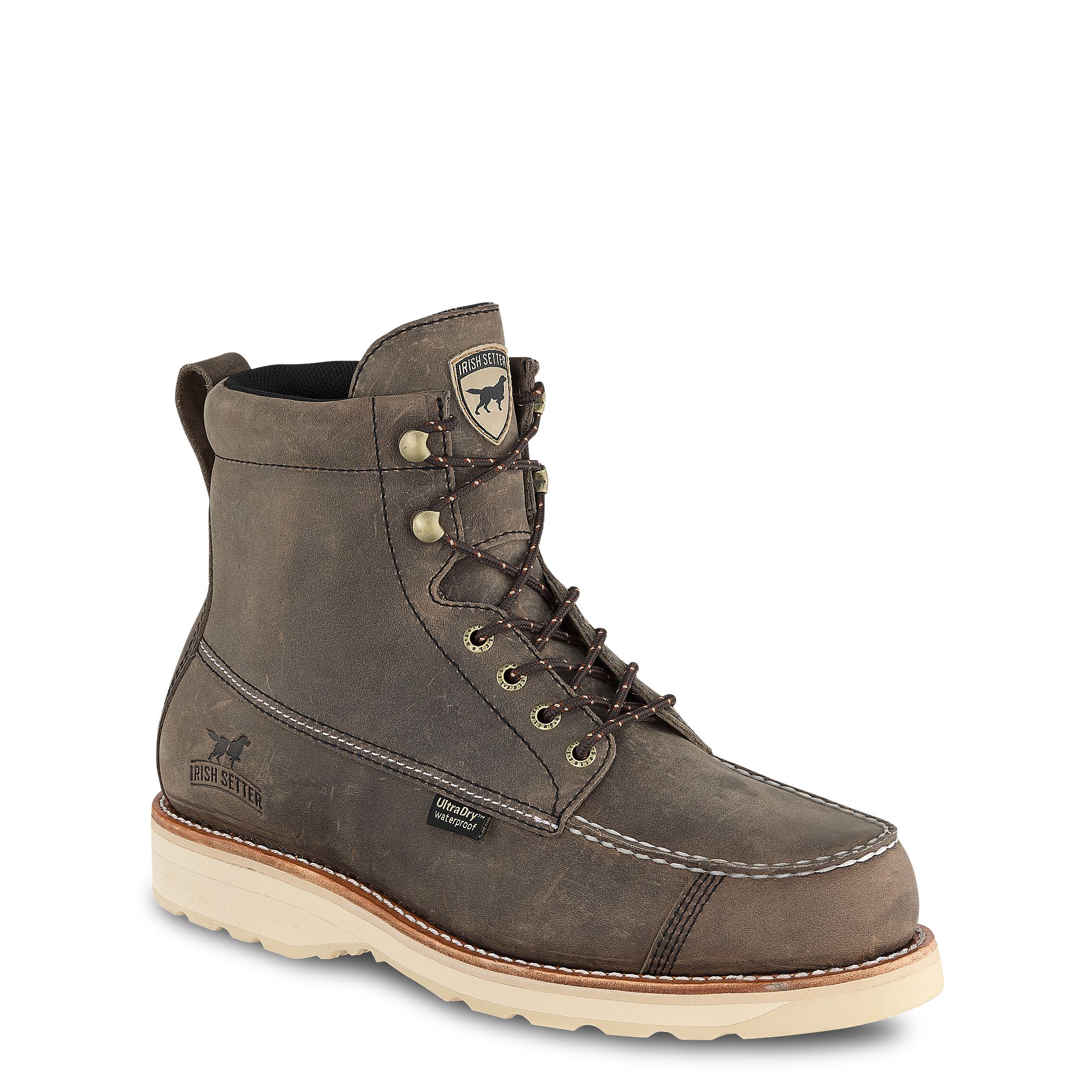 STYLE 893
Media Contact: Kim Emery at kim@fireflypublicity.com is available to assist media with questions.
Irish Setter® Wingshooter boots are legendary among upland bird hunters. And they're now available in concrete, olive, black, maple and brown leather options, providing even more choices for dedicated hunting enthusiasts. These new waterproof, full grain leathers ensure maximum durability and all-day comfort.
Non-insulated Wingshooter boots feature UltraDry™ waterproofing for long-lasting protection in wet conditions, while quick dry linings wick foot moisture away to keep feet comfortable. ScentBan™ scent control eliminates odors within the boot and the famous Irish Setter Prairie sole provides excellent traction without the weight and bulk of deep cleats that can get clogged with mud and catch on weeds and brush. An EVA mid-sole/sole platform and polyurethane foot bed provide outstanding support and underfoot comfort while walking all day as your dog flushes the birds. Goodyear Leather Welt construction offers durability that upland hunters demand.
Supple, rich brown leather and black Prairie outsole offer another variation within Irish Setter's Wingshooter line of upland hunting boots. The classic styling is complemented with tonal stitching.
The women's #890 is built on a women's specific last and features a soft brown collar for a comfortable, performance fit. The 7" upland boot is non-insulated with waterproof leather and UltraDry™ waterproof construction.
Men's Wingshooters (sizes 8-12, 13, 14 in D and EE widths):
#807 is a 7" non-insulated waterproof brown upland boot, $209.99*
#838 is a 7" non-insulated waterproof Amber upland boot, $209.99*
#894 is a 9" non-insulated waterproof Amber upland boot, $224.99*
#896 is a 400 gram 9" waterproof Amber upland boot, $249.99*
#845 is a 7" non-insulated waterproof black upland boot, $209.99*
#891 is a 7" non-insulated waterproof brown upland boot, $209.99*
Women's Wingshooters (sizes B 5-10, 11 and D 6-10):
#890 is a 7" non-insulated waterproof brown upland boot, $199.99
"Irish Setter is known for its original Wingshooter upland hunting boots. We pair the Prairie outsole with traditionally-styled uppers for performance and classic styling," said Charley Bryant, Irish Setter Product Merchant. "We now offer customers new options that appeal to today's hunters while keeping the signature Wingshooter look and feel."
Irish Setter boots are offered at select retailers and online. Please visit www.irishsetterboots.com for more product details and availability.
About Irish Setter
Based in Red Wing, MN, Irish Setter is a division of the Red Wing Shoe Company that produces a full line of purpose-built hunting boots, work boots and rugged outdoor casual footwear. Irish Setter continues to use leading technologies and the finest materials to offer customers the highest quality outdoor footwear. For more information about Irish Setter's heritage, products and retailers, visit www.irishsetterboots.com. Irish Setter. Go all day, everyday.
Download Images
*Prices shown are suggested retail in USD.