Back to Press Room
A RICH HISTORY
RED WING, MN (June 2010)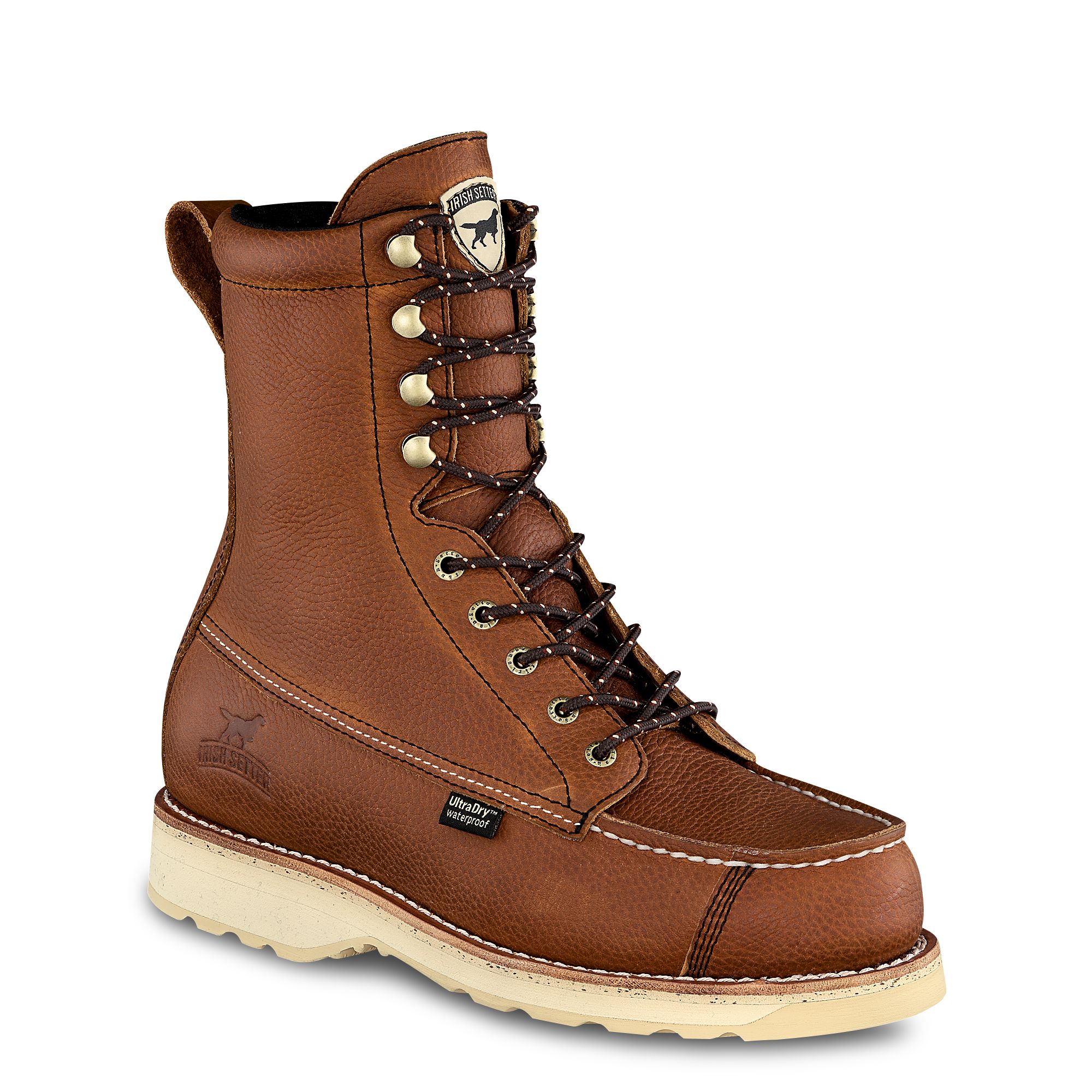 STYLE 894
Media Contact:
Kim Emery at kim@fireflypublicity.com
Irish Setter, one of the world's premier lines of sporting and outdoor boots, has a rich history. The line is descended from Red Wing Shoes' 1920 line of "outing boots." Those strapping 18" models are considered to be the first boots built specifically for outdoor recreation.
Red Wing Shoe Company originally developed boots with the legendary White Crepe sole for some very practical purposes and very practical people. The shallow lug sole was designed so that it would not pick up mud and debris. This made it a dual purpose boot for farmers who could wear it in their barns and pastures and also while upland hunting, a favorite activity. And the white sole allowed a farmer's wife to see that his boots were clean when entering the house! Eventually the sole also made this boot a favorite of construction workers walking on high steel to build America's skyscrapers –good grip with nothing to catch and cause a trip.
These first Irish Setters featured Oro-iginal leather. The Oro-iginal leather is supple, rich and created to be barnyard acid-resistant to give the boots a longer life. The distinctive color of this leather, similar to the color of the Irish Setter dog's lush coat, led to the brand's name. However, as legend has it, the leather color was actually inspired by the bark of the mighty redwood trees.
The legend lives on in Red Wing, Minnesota - a beautiful, historic Mississippi River town in America's Heartland. It's surrounded by bluffs, trout streams and lakes. The fishing is good. So is the hunting. There is no better place for outdoor enthusiasts to live - and no better place to design the boots that meet their needs. The Red Wing Shoe Company, parent to Irish Setter, has been part of the fabric of the town since 1905.
Irish Setter's specialty is designing footwear for the avid outdoorsman including performance hunting boots, fishing shoes and rugged casuals. As the choice for sportsmen who take their activities seriously and strategically plan their days, it's the little details that make the difference between a great day and just another day in the great outdoors. True sportsmen appreciate the thought and consideration Irish Setter builds into each pair, using leading technologies like GORE-TEX, Thinsulate™ and Vibram®, with superior materials to provide the finest in outdoor footwear. The casual collection also makes it possible to carry the comfort you find in your outdoor footwear to everyday life. As a division of Red Wing Shoe Company, you can depend on Irish Setter's quality to get you through a day in the field, on the water or relaxing at the cabin.
The Irish Setter boots are available now at leading outdoor retailers. Visit www.irishsetterboots.com for the retailer nearest you.
About Irish Setter
Based in Red Wing, MN, Irish Setter is a division of the Red Wing Shoe Company that produces a full line of performance hunting boots and rugged outdoor casual footwear. Irish Setter continues to use leading technologies and the finest materials to offer customers the highest quality outdoor footwear. For more information about Irish Setter's heritage, products and retailers, visit www.irishsetterboots.com.
Download Images
894: High Resolution JPEG | Medium Resolution JPEG
*Prices shown are suggested retail in USD.
Please contact kim@fireflypublicity.com for pricing outside of the USA.