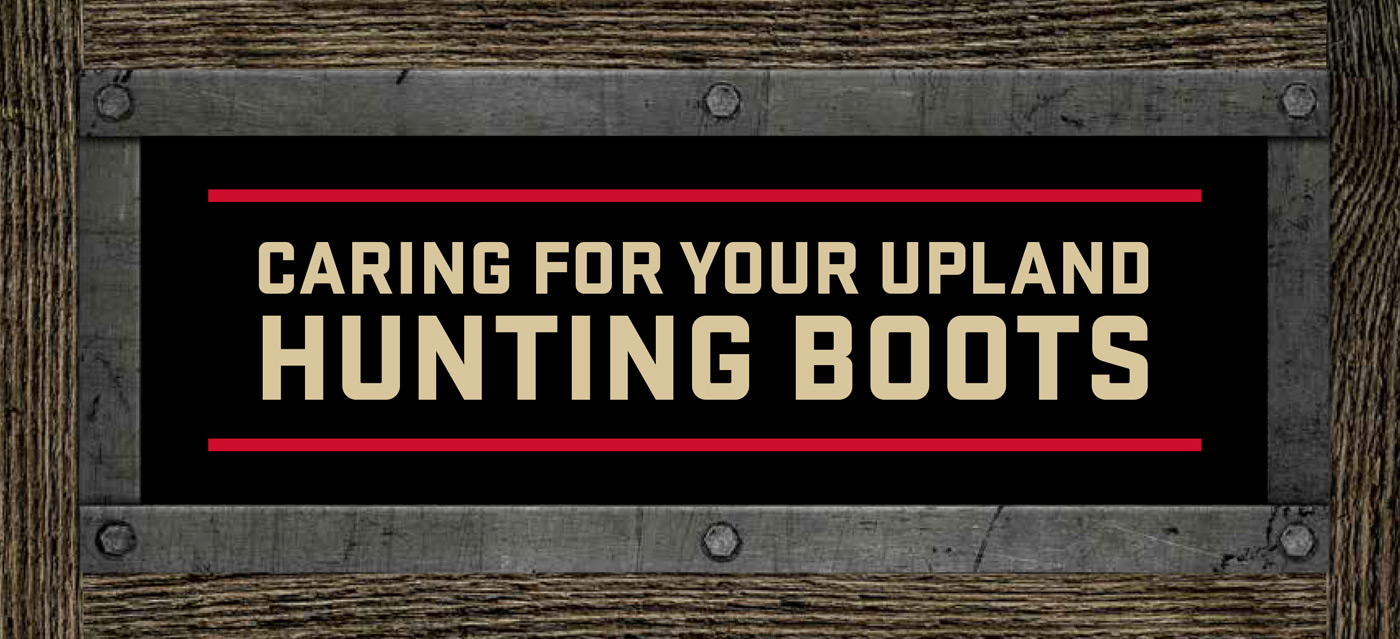 By Charley Bryant
Hunting boots are not just a big investment for most pheasant hunters. Your boots are absolutely critical to the success of your hunt.
If you've ever had a pair of boots that have leaked, fallen apart while you've walked in muck, or caused relentless foot pain, then you know what I'm talking about.
If you want to go all day, you not only have to choose the right boots for the hunt, you need to take care of those boots to ensure they perform to your expectations. When you set out to cover the next quarter section, the last thing you want to be thinking about is why your feet are cold or wet, or the gnawing pain of a blister forming on the back of your heel.
That's why it's essential to take care of your favorite hunting boots – not just before you pull them out of the closet before you head out on your annual hunting trip – but all year long.
Besides, if you're hunting with a group, you owe it to them to take care of your gear. No one wants to be the weak link on a hunting trip. And no one wants to hear a fellow hunter complaining about their gear, especially if it's obvious that you haven't been taking care it. Being prepared can turn a good hunt into a great hunt, and prevent a difficult hunt from turning into a disaster.
Here are a few tips on how to get the most out of your boots through the proper care.
GET PROPERLY FIT
Make sure that you buy hunting boots that fit you well. When trying them on, either at a retailer or when your boots arrive at home, put on a pair of socks that you'll actually wear during your hunt and walk around in them. Poorly fitting footwear can not only cause annoying calluses or blisters, but walking in poorly fitting boots can lead to knee and back problems. And on uneven ground, poorly fitting boots can be dangerous causing trips or stumbles. If you're thinking about your boots for even one minute (except about how thankful you are for them), then you're not hunting. Invest in high-quality boots, but remember, if they don't fit properly, even the best boots can cause problems.
(Really) Inspect Your Boots – Take time to carefully inspect your hunting boots. Over time, depending upon how tough you are on them, boots can develop holes, cracks and tears, flat soles, or a sole that separates from the boot. If left unchecked, cracks and tears can lead to wet feet, a separated sole could cause you to trip, and worn out, flat soles may cause arch problems.
Also, don't overlook your laces. Change them every couple of years. It's awfully frustrating to break a lace when you're just about to head out into the field and you don't have a spare.
TREAT YOUR BOOTS
A quality pair of upland hunting boots aren't cheap. If you want those boots to last for many years, the first thing you should do is treat them, according to the manufacturer's recommendations. But don't stop there. For waterproof leather hunting boots, like Irish Setter Wingshooter boots, a long-time favorite among pheasant and quail hunters, you should treat the exterior of the boot with a solution such as NaturSeal™, a formula that enhances breathability and pliability, and complements the boot's waterproofing system. For hunting boots made with synthetic materials, be sure to follow the manufacturer's recommendations.
CLEAN YOUR BOOTS
When the hunt is done, don't store your boots if they're still wet or caked with dirt and mud. If you do, the next time you need them, you may find that they've dried out and feel hard and stiff. Doing this enough times, will reduce the useful life of your boots significantly.
So, when you get home, clean off the mud and grit from the leather and the soles, and use saddle soap and water to wash away the dirt. You can use an old toothbrush to scrub the tough spots, such as the where the leather upper meets the sole.
On the interior, use a washcloth to wipe out any dust and dirt that inevitably gets inside the boot. You also may want to take out the foot beds and wipe them off. Never soak your boots. Do let them air dry (but don't put them in the sun or use a hairdryer to speed up the process). If you're on a multi-day hunt and need dry boots for the next day, consider purchasing a boot dryer, which gently blows air into the boot interior.
STORING YOUR BOOTS
Before you put your boots away until your next hunting trip, make sure they're dry all the way through. If you feel moisture to the touch, they still need to dry some more. Moist boots stored in a container or an airtight location will mildew. Also, take the time to condition your boots. For leather boots, you may want to use Original Mink Oil Paste to soften, lubricate, and preserve the leather. It's a good idea to pull your leather hunting boots out every couple months to re-apply mink oil to prevent them from drying out. Also, consider storing your boots inside your home rather than in the garage, where they could make a nice home for mice.
MAKE BOOTS CARE PART OF YOUR HUNTING ROUTINE
The best hunters I know use a pre- and post hunting routine to maximize their hunting time. They tend to follow the same process to ensure that they aren't overlooking something, and to avoid over packing. In the future, make sure to include your hunting boots as part of that routine – just like you do by inspecting your firearm before the hunt, and cleaning and storing it properly afterward.
To learn more about Irish Setter hunting boots, visit irishsetterboots.com. Charley Bryant is the Irish Setter footwear product merchant. He is an avid upland bird and big game hunter.