Late season super star
VaprTrek™ LS boots are packed with the same high-tech features found in our popular VaprTrek™ family of boots. But with enhanced insulation options for cold-weather warmth and an updated outsole with rubber lugs for traction, you'll be comfortable and confident whatever Mother Nature throws at you.
Technology and Feature Options

Waterproof

UltraDry™ Waterproofing System

Insulation

PrimaLoft® Insulation
ArmaTec™
This technology is a protective covering that is incredibly tough and abrasion resistant. 
Mossy Oak®
Mossy Oak® Break-Up® camouflage features unprecedented depth, unequalled detail and elements with remarkable contrast, offering hunters another dimension in camo. Mossy Oak® Break-Up Infinity® is a versatile pattern used effectively in various hunting situations from flooded timber to deep woods. Includes elements like bark, branches and leaves to mimic actual colors found in nature.
Realtree®
Realtree Xtra® works in any hunting situation with depth and lifelike images. Realtree Xtra® Green offers detail and contrast which works great for early season bow hunting, where green is needed and closeness counts. Realtree AP™ is a neutral, open and realistic camo pattern; everything a hunter needs to be versatile and effective. Realtree APG™ is lighter and more open, neutral-toned, and with more contrast than the competition. The pattern is like Realtree AP, but with olive green accents added. Realtree APG camo offers even more concealment options for early fall and spring. Realtree Hardwoods Green HD® is a "season and region" option for hunters; an ultra-realistic pattern that's effective and versatile for use wherever green is prevalent.
RPM™
A breakthrough composite material that significantly reduces the weight of the boot, providing extreme comfort and added endurance. Engineered to provide the durability and strength of traditional materials without the extra weight.
ScentBan™
An Irish Setter exclusive scent control process, ScentBan™ is added to various materials from leathers to linings to footbeds, killing bacteria that cause odors.
UltraDry™ Waterproof
Our UltraDry™ construction combines a moisture management lining with waterproof components for dry, long-lasting comfort and performance.
PrimaLoft®
Designed for repeated compression and durability over time. Featuring 90% post-consumer recycled fibers made from plastic bottles, this unique low-bulk construction maintains loft and traps body heat even when compressed. Coupled with a permanent water repellent treatment with high-density construction, this insulation keeps feet warm in dry or wet conditions.
Closeout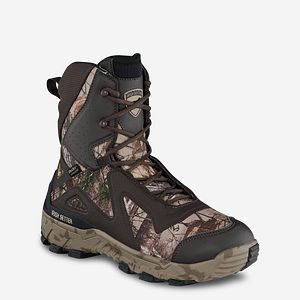 Style 827
Men's 9-inch Waterproof Leather Insulated Realtree® Camo Boot
Closeout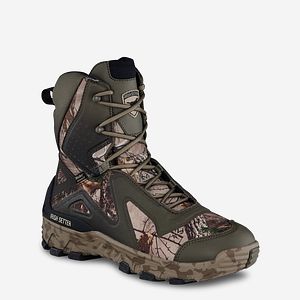 Style 822
Men's 9-inch Waterproof Leather Insulated Realtree® Camo Boot
Additional Hunt Footwear Families