Extreme cold combatant
When your pursuits include winter hunts, ice fishing, snowmobiling or other cold weather activities, rely on IceTrek boots with innovative ThermalBoost™ technology to keep your feet warm on even the most brutal, bitter days.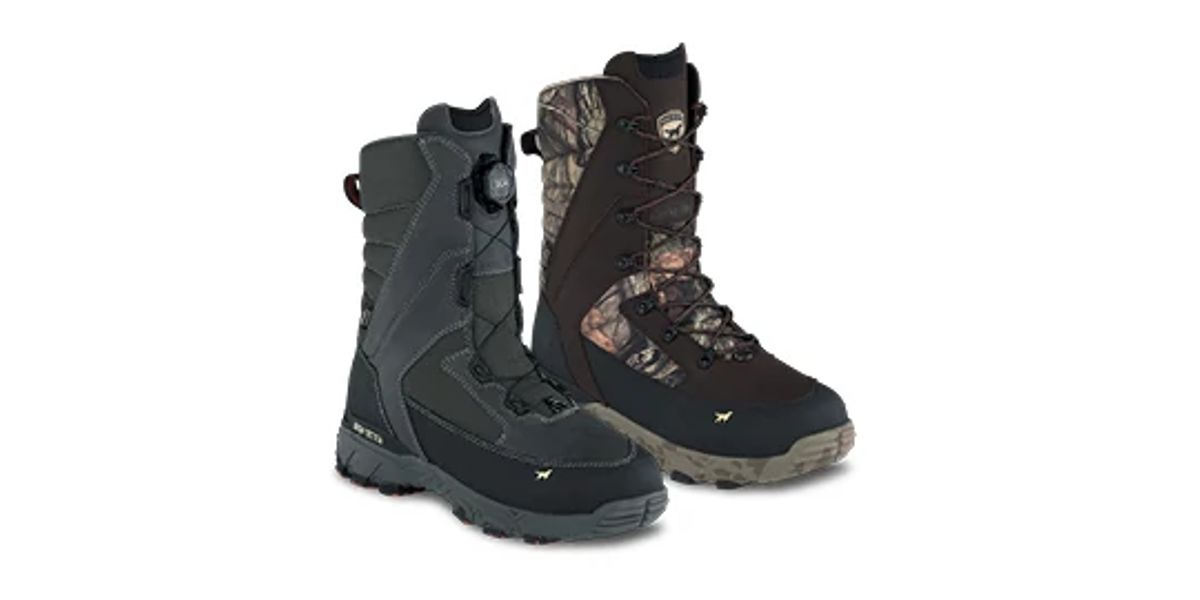 Technology and Feature Options

Waterproof

UltraDry™ Waterproofing System

Insulation

PrimaLoft® Insulation
ArmaTec™
This technology is a protective covering that is incredibly tough and abrasion resistant. 
Mossy Oak®
Mossy Oak® Break-Up® camouflage features unprecedented depth, unequalled detail and elements with remarkable contrast, offering hunters another dimension in camo. Mossy Oak® Break-Up Infinity® is a versatile pattern used effectively in various hunting situations from flooded timber to deep woods. Includes elements like bark, branches and leaves to mimic actual colors found in nature.
RPM™
A breakthrough composite material that significantly reduces the weight of the boot, providing extreme comfort and added endurance. Engineered to provide the durability and strength of traditional materials without the extra weight.
Trout Brook Leather
Handcrafted by our S.B. Foot Tanning Company, this leather is crafted exclusively for our Irish Setter brand and is named after the trout brook which flows just outside the back door of the tannery in Red Wing, Minnesota. Using only U.S. raised steer hides, the master tanners at S.B. Foot use time-proven methods to create the most durable leather, leather that will meet the demands of the toughest trail or job site.
ScentBan™
An Irish Setter exclusive scent control process, ScentBan™ is added to various materials from leathers to linings to footbeds, killing bacteria that cause odors.
ThermalBoost™
THERMALBOOST is a revolutionary, multi-zone barrier system that delivers serious insulating protection against brutal cold and biting wind. ThermalBoost is strategically built into specific areas of the boot, such as the toe box, beneath the insole and within the footbed, where heat loss is most common. 
UltraDry™ Waterproof
Our UltraDry™ construction combines a moisture management lining with waterproof components for dry, long-lasting comfort and performance.
PrimaLoft®
Designed for repeated compression and durability over time. Featuring 90% post-consumer recycled fibers made from plastic bottles, this unique low-bulk construction maintains loft and traps body heat even when compressed. Coupled with a permanent water repellent treatment with high-density construction, this insulation keeps feet warm in dry or wet conditions.
Additional Hunt Footwear Families