Back to Press Room
IRISH SETTER® INTRODUCES LIGHTER VERSION OF AWARD-WINNING ELK TRACKER HUNTING BOOTS
RED WING, MN (December 2016)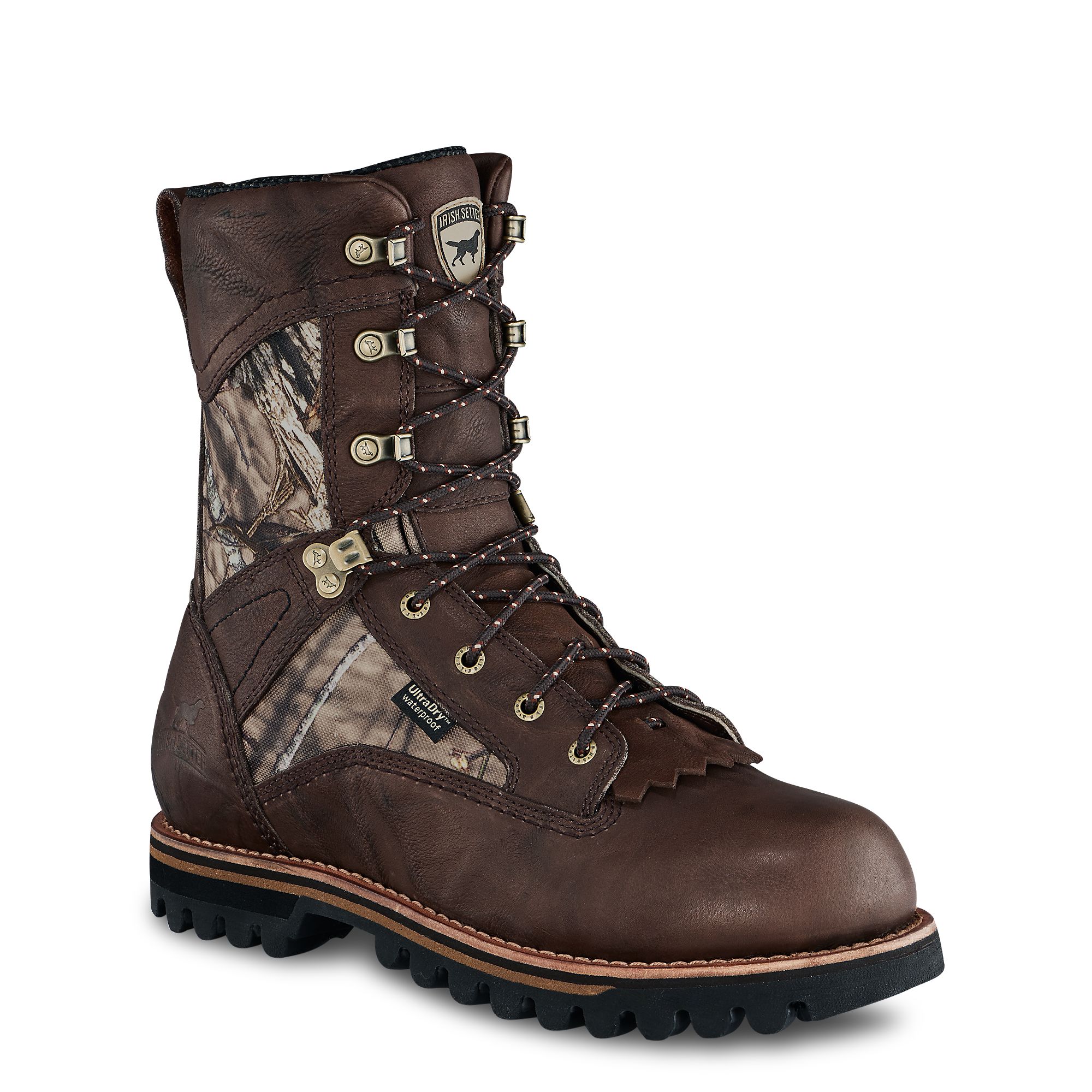 STYLE 861
Media Contact:
Kim Emery at kim@fireflypublicity.com
Irish Setter has developed lighter versions of its award-winning Elk Tracker boots to provide another option for hardcore hunters. To reduce weight, new Elk Tracker boot uppers feature abrasion-resistant nylon along with full grain waterproof leathers.
All Irish Setter Elk Trackers combine a variety of features which contribute to their comfort and durability. Genuine leather welt construction provides some flexibility with enough rigidity and torsion control for stability on uneven terrain. And the cushioning of the removable Comfort Cork EVA Footbed with Memory Foam and ScentBan™ Odor Inhibitor comes standard on all models. Locking lace hooks help tighten boots for a secure fit. Primaloft® Insulation provides warmth in cold environments. The aggressive Bulls-Eye®Air Bob aggressive sole offers superb stability and traction on the toughest terrain. The dual-density sole provides maximum underfoot cushion. Leather/fabric versions feature UltraDry™ waterproofing to keep feet dry. All leather upper versions feature a GORE-TEX membrane which blocks moisture from the outside, while allowing moisture inside to evaporate.
"Big game hunters have a lighter weight option with our new Irish Setter Elk Tracker boots," said Charley Bryant, Irish Setter Product Line Merchant for Red Wing Shoe Company. "These boots were built to live up to the Elk Tracker standard."
Men's Elk Tracker hunting boots (sizes 8-12, 13, 14 in D and EE widths):
Style 861 is a 10" non-insulated brown boot, UltraDry™, Leather upper, $209.99*
Style 880 is a 12" boot with 200 grams of Thinsulate® Insulation, GORE-TEX, all leather upper, $254.99*
Style 882 is a 12" boot with 600 grams of Thinsulate® Insulation, GORE-TEX, all leather upper, $259.99*
Style 860 is a 12" boot with 1000 grams of Thinsulate® Insulation, GORE-TEX, all leather upper, $259.99*
Elk Tracker boots are available now, with style 861 becoming available in July 2017 at leading outdoor retailers. Visit www.irishsetterboots.com for the retailer nearest you.
About Irish Setter
Based in Red Wing, MN, Irish Setter is a division of the Red Wing Shoe Company that produces a full line of performance hunting boots and rugged outdoor casual footwear. Irish Setter continues to use leading technologies and the finest materials to offer customers the highest quality outdoor footwear. For more information about Irish Setter's heritage, products and retailers, visit www.irishsetterboots.com. Irish Setter. The Hunt Never Ends.
Download Images
861: High Resolution JPEG
880: High Resolution JPEG
882: High Resolution JPEG
860: High Resolution JPEG
*Prices shown are suggested retail in USD.
Please contact kim@fireflypublicity.com for pricing outside of the USA.