Back to Press Room
IRISH SETTER® DRIFTER TRAIL BOOTS ARE IRISH SETTER'S LIGHTEST BOOTS
RED WING, MN (December 2017)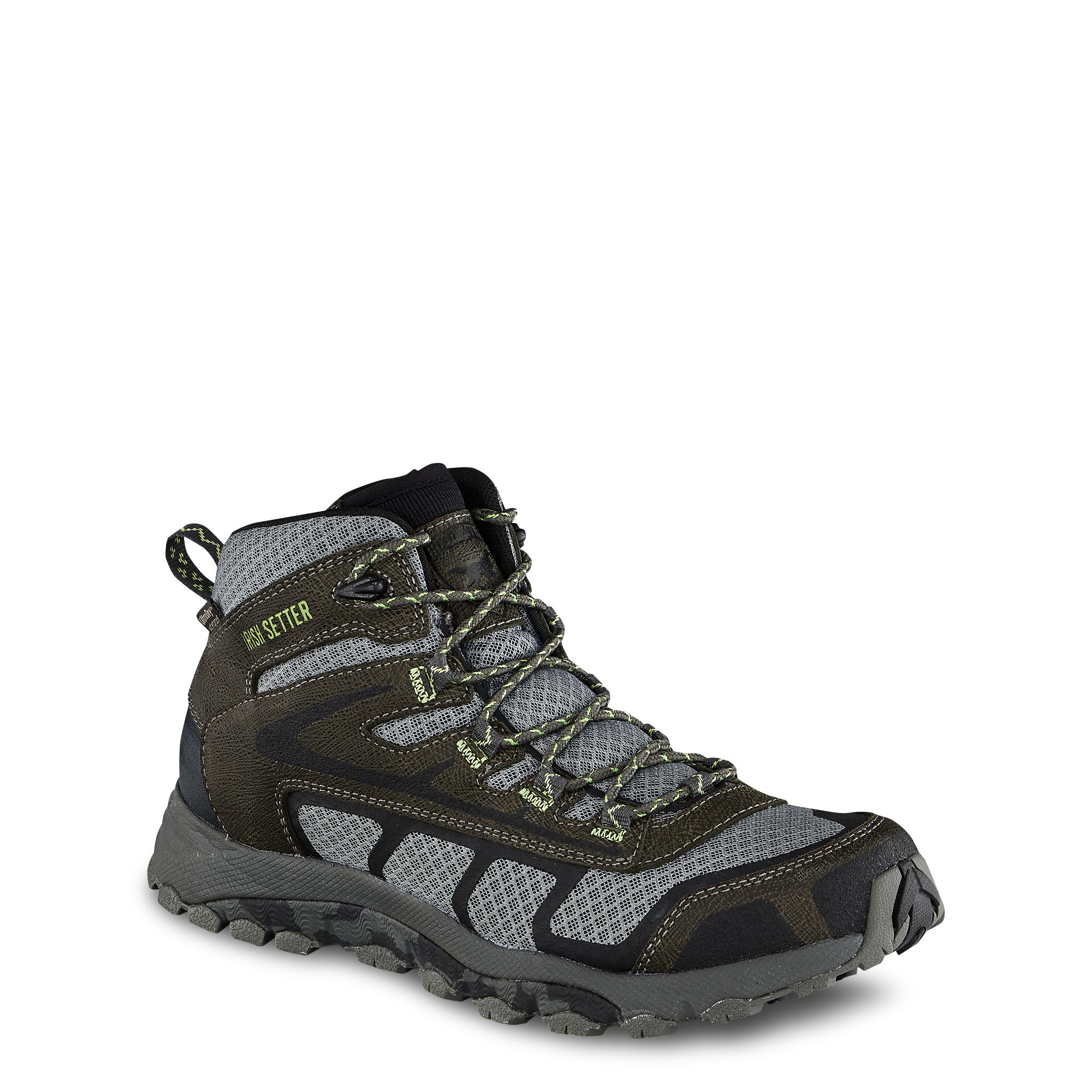 STYLE 2814
Media Contact:
Kim Emery at kim@fireflypublicity.com
Irish Setter® Drifter trail boots are purpose-built for maximum durability and minimum weight. Available for men and women, Drifter boots utilize waterproof full-grain leather uppers combined with abrasion-resistant mesh for maximum comfort and breathability. Quick dry linings wick away foot moisture and ScentBan™ scent control eliminates odors within the boot. The Cushin™ Comfort Tongue provides comfort in the shin area. Armatec™ technology adds durability and abrasion resistance in the high wear areas of the heel and toe. All Drifter boots feature the Agilite™ 3-piece comfort sole system that combines a top layer of dense EVA for heel, arch and forefoot stability and support and a middle layer of softer, high rebound EVA which offers great underfoot comfort. The Venturist™ outsole's aggressive lug pattern provides superb stability and traction on the toughest terrain. Drifter hiker boots feature UltraDry™ waterproofing for dry feet and long-lasting protection.
Men's Drifter Trail Boots (sizes 8-12, 13, 14 in D and EE widths):
Style #2833** is a non-insulated brown oxford, $119.99*
Style #2834** is a non-insulated brown/gold hiker, $144.99*
Style #2835** is a non-insulated grey/olive hiker, $144.99*
Style #2806 is a gray slip-on, $129.99*
Style #2807 is a waterproof gray/lime oxford, $134.99*
Style #2808 is a waterproof black hiker, $144.99*
Style #2814 is a waterproof gray/lime hiker, $144.99*
Women's Drifter Trail Boots (sizes 5-10, 11 medium widths):
Style #2838 is a non-insulated gray/teal oxford, $119.99*
"Irish Setter Drifter boots are our lightest trail boots ever," explained Charley Bryant, Irish Setter Product Merchant. "You can feel the lightness when you pick them up. And you'll feel it with every step."
About Irish Setter
Based in Red Wing, MN, Irish Setter is a division of the Red Wing Shoe Company that produces a full line of performance hunting boots and rugged outdoor casual footwear. Irish Setter continues to use leading technologies and the finest materials to offer customers the highest quality outdoor footwear. For more information about Irish Setter's heritage, products and retailers, visit www.irishsetterboots.com.
2833: High Resolution JPEG
2834: High Resolution JPEG
2835: High Resolution JPEG
2838: High Resolution JPEG
2806: High Resolution JPEG
2807: High Resolution JPEG
2808: High Resolution JPEG
2814: High Resolution JPEG
*Prices shown are suggested retail in USD.
Please contact kim@fireflypublicity.com for pricing outside of the USA.