Irish Setter® Wingshooter ST Work Boots Combine Safety Toe Protection with Legendary Irish Setter Style
RED WING, MN (January 2022)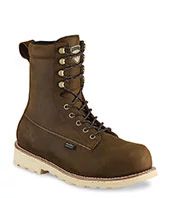 STYLE 83802
Please refer to irishsetterboots.com for current product availability and pricing.
Media Contact: Kim Emery at kim@fireflypublicity.com is available to assist media with questions.
Irish Setter® Wingshooter ST work boots pair the iconic style with durability for the toughest jobs. The classic Irish Setter hunting boot look with signature amber-colored leather and white outsole is combined with work performance outsoles and safety toes for jobs in maintenance and repair, manufacturing and construction. The composite asymmetrical safety toe doesn't conduct heat, cold or electricity and provides more room in the toe box.
Long-wearing rubber-EVA Traction Tred Soles offer best-in-class slip and oil-and-gas resistance feature rubber for durability and an EVA midsole for lightweight comfort and cushioning. One Wingshooter ST work boot features a defined heel for added stability. The polyurethane footbed is removable. Durable welt construction also allows for boots to be resoled when necessary. Waterproof, full grain leathers ensure maximum durability and all-day comfort in Irish Setter's classic amber color. These non-insulated Wingshooter ST boots feature UltraDry™ waterproofing for long-lasting protection in wet conditions, while quick-dry, military-grade linings wick foot moisture away to keep feet comfortable.
See Irishsetterboots.com website for detailed ASTM, CSA safety standard information.
Men's Wingshooter ST Work Boots (sizes 8-12, 13, 14 in D and EE widths)
Style #83802** is an 8" non-insulated waterproof, NT, EH brown work boot with defined heel, $219.99*
Style #83632 is a 6" non-insulated waterproof Amber work boot, $209.99*
Style #83674 is a 6" non-insulated waterproof work boot with Heat Resistant, Swen-Flex2® Puncture Resistant outsole, $219.99*
"For our hunting consumers who would like to wear our classic Wingshooter upland boots in work settings we've added the safety features they need to work safely and comfortably all-day," said Charley Bryant, Irish Setter Product Merchant.
Wingshooter ST boots are available now, with new styles (**) coming in Fall 2022 at leading outdoor retailers. See website for detailed ASTM, CSA safety standard information.
Visit www.irishsetterboots.com to learn more.
About Irish Setter
Irish Setter boots help people who work and enjoy time outdoors to go all-day by producing a full line of purpose-built footwear. Irish Setter uses leading technologies and the finest materials to offer customers the highest quality outdoor footwear. Irish Setter is a division of the Red Wing Shoe Company and is based in Red Wing, MN, along the banks and bluffs of the Mississippi River. For more information about Irish Setter's heritage, products and retailers, visit www.irishsetterboots.com.
Download Images
*Prices shown are suggested retail in USD.